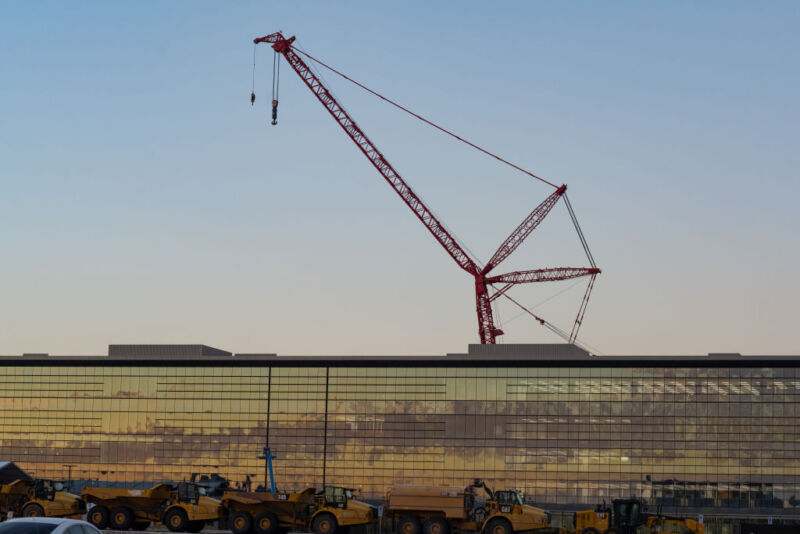 A new report has revealed that America may be quickly approaching a major roadblock in its bid to become a global chips leader by the end of the decade. Employees of the Taiwan Semiconductor Manufacturing Company (TSMC)—which is leagues ahead of competitors in mass production of advanced chips— told The Information that TSMC has no plans to build a packaging facility in the US.
This likely means that thousands of chips that will eventually be manufactured at a $40 billion fab in Arizona—which is scheduled to be operational in 2025—will ultimately still have to be shipped to Taiwan for packaging. That's a problem, since President Joe Biden introduced the CHIPS and Science Act to reduce US reliance on Taiwan facilities amid China's ongoing threats to invade and possibly take over Taiwan. It would almost seem to defeat the point of building fabs in the US if the US-made chips still ultimately need to be packaged and shipped back from overseas.
TSMC's Arizona fab is a critical part of Biden's plan to design and produce "leading-edge logic chips" that power computers, smartphones, servers, and supercomputers, according to a 2023 report from the National Institute of Standards and Technology (NIST). Construction on the fab has already been delayed, due to what TSMC called a lack of skilled US workers.
These chips "are increasingly foundational" to US infrastructure and military modernization efforts, NIST said, and they "will be essential to the technologies of the future, from artificial intelligence to biotechnology to clean energy." But to safeguard national security and forge ahead as a leading chips supplier, the US needs to be able to not just manufacture, but also package all those mass-produced chips domestically, and the US knows it can't afford to ignore its packaging problem.
"Today, none of the most advanced logic and memory chips—the chips that power PCs, smartphones, and supercomputers—are manufactured at commercial scale in the United States," NIST reported. The US having limited packaging capability is "a strategic vulnerability," NIST said, reporting that "bolstering frontend fabrication capacity without investing in packaging will limit supply-chain resiliency."
But both government and tech leaders seem to be avoiding talking about America's packaging problem. Last December, when Apple announced that it would become the Arizona fab's biggest customer, Biden said that Apple shifting from buying its advanced chips overseas would be a "game-changer," CNBC reported. Apple CEO Tim Cook said that Apple was "proud" to "nurture" the growth of America's domestic chip supplies.
"These chips can be proudly stamped Made in America," Cook said in 2022.
But a chief analyst for a semiconductor research firm called SemiAnalysis, Dylan Patel, told The Information that the "TSMC Arizona fab is effectively a paperweight," unable to boost America's advanced chips supplies without first sending a ton of chips "back to Taiwan."
A bipartisan nonprofit policy research organization, the Center for Strategic and International Studies (CSIS), reported that in 2021, "US semiconductor firms offshore nearly all packaging processes," with only 46 facilities located in the US that specialize in outsourced testing and assembly operations. Most of the facilities where packaging processes are outsourced are in Asia, CSIS said—with 107 in Taiwan and 111 in China—which is where at least 81 percent of global chips are assembled, packaged, and tested.
According to The Information, Apple hasn't specified how many chips it plans to purchase from the Arizona fab. The company could be planning to buy less advanced chips that could be packaged outside of Taiwan for its iPads and MacBooks. But Apple's greater investment would still be in more advanced chips that are used for the iPhone, the Apple Watch, and advanced Mac desktops, and those would still likely have to come from Taiwan.
Former Apple and TSMC employees told The Information that "Apple pays a lot to use TSMC's advanced packaging and Apple is the only customer using TSMC's method at high volumes." Because Apple means so much to TSMC, Apple also "gets a significant discount on TSMC's packaging," The Information reported.
TSMC employees told The Information that TSMC building a packaging facility in the US is unlikely because it would cost too much. That's why TSMC "always develops its newest manufacturing and packaging processes close to home, where costs are lower and talent is easier to find," The Information reported.
Analysts told The Information that the Arizona fab also won't produce enough chips to entice TSMC to build a packaging facility in the US. When the fab is finally fully operational, it will produce 600,000 wafers per year to meet the US chip demand, CNBC reported, and that's a relatively small amount compared to the 15 million total wafers TSMC produced in 2022.