As Bitcoin faces tumultuous waters, trading at $25,187 with a 2.16% decrease on Tuesday, the broader cryptocurrency landscape also experiences significant shifts. 
The entire cryptocurrency market capitalization has plummeted below the $1 trillion threshold, largely influenced by major players—often referred to as 'whales'—offloading Bitcoin and Ethereum. 
Adding to the apprehensions, Gary Gensler, prior to his Senate testimony, has once again vocalized his concerns regarding cryptocurrency, revisiting familiar criticisms. 
Concurrently, in anticipation of tightening regulations, Luno, a prominent cryptocurrency exchange, has taken pre-emptive measures, barring certain UK clients from investing in digital currencies.
Whale-Driven Bitcoin & Ethereum Sell-off Plunges Crypto Market Cap Below $1 Trillion
The cryptocurrency market has slumped, with its total capitalization dipping below the $1 trillion mark, a six-month low. 
This 2.84% decline wiped nearly $29 billion from the market's value, bringing it to just over $987 billion. 
This decline was fueled by concerns surrounding Solana and the FTX hearing, prompting investors to engage in panic selling, an uncommon phenomenon in recent months.
Large trading firms like Jump Trading, Abraxas Capital Management, and Wintermute Trading added to the market's bearishness by depositing over $30 million worth of Bitcoin, Ethereum, and Arbitrum on various exchanges, aligning with the bearish sentiment.
 In the futures market, the past 24 hours saw a notable liquidation of long contracts, amounting to nearly $150 million, the highest in three weeks. 
This challenges investors seeking to recover losses in the current bearish climate. Consequently, Bitcoin (BTC) is experiencing a decline in its price today due to these market developments.
Gary Gensler Defiantly Responds to Crypto Complaints Ahead of Senate Testimony
The Chair of the US Securities and Exchange Commission (SEC), Gary Gensler, continues to express his concerns about the cryptocurrency industry, despite recent legal challenges faced by the SEC. 
In preparation for his upcoming testimony before the Senate Banking Committee, Gensler persists in his warnings about the sector's apparent lack of compliance with securities laws.
He points out that most crypto tokens likely meet the criteria for investment contracts, implying that they should be subject to securities laws. 
This stance comes in the wake of two noteworthy court rulings – one in favor of Ripple in its XRP case and another against Terraform Labs – which have a bearing on the SEC's legal battles with crypto companies.
While Gensler will discuss recent enforcement actions and proposed rules affecting crypto firms, he will refrain from commenting on ongoing litigation, including the SEC's prominent cases against Coinbase and Binance. 
This ongoing regulatory scrutiny and Gensler's position might have contributed to the current decline in Bitcoin's (BTC) price today.
Luno Tightens Investment Restrictions in the UK Amid Looming Crypto Regulations
Cryptocurrency exchange Luno has announced its decision to temporarily halt certain clients in the UK from investing in cryptocurrencies, as the UK's Financial Conduct Authority (FCA) prepares to enforce new rules for crypto promotions by October 8. 
Luno's move will be implemented by October 6, just two days before the regulatory deadline. These regulations treat cryptocurrencies as "restricted mass market investments" and mandate clear warnings and a ban on incentives in crypto-related advertisements.
Nick Taylor, Luno's Head of Public Policy, stated that the changes are necessary for compliance with the FCA's new rules, resulting in the suspension of investment capabilities for some UK customers. 
Notably, PayPal has also announced a similar temporary halt in crypto purchases in response to these regulations, extending until 2024.
 Affected Luno clients can still sell and withdraw their assets, with plans to reintroduce investment opportunities gradually.  
This regulatory development and Luno's decision might have influenced the current decline in Bitcoin's (BTC) price today.
Bitcoin Price Prediction 
In a technical review of Bitcoin, the dominant cryptocurrency has faced a notable decline. It has broken a crucial triple bottom support at the $25,400 mark, highlighted by the 4-hour timeframe's triple bottom pattern. The "Three Black Crows" pattern in the same timeframe suggests a possible bearish continuation.
Bitcoin is currently in oversold conditions with the RSI under 30, indicating possible seller fatigue and hinting at a brief bullish recovery. The MACD sits in the sell zone, emphasizing the bearish sentiment. While Bitcoin's price hovers around $25,200, it remains below the 50-day EMA at $25,500, confirming the bearish trend.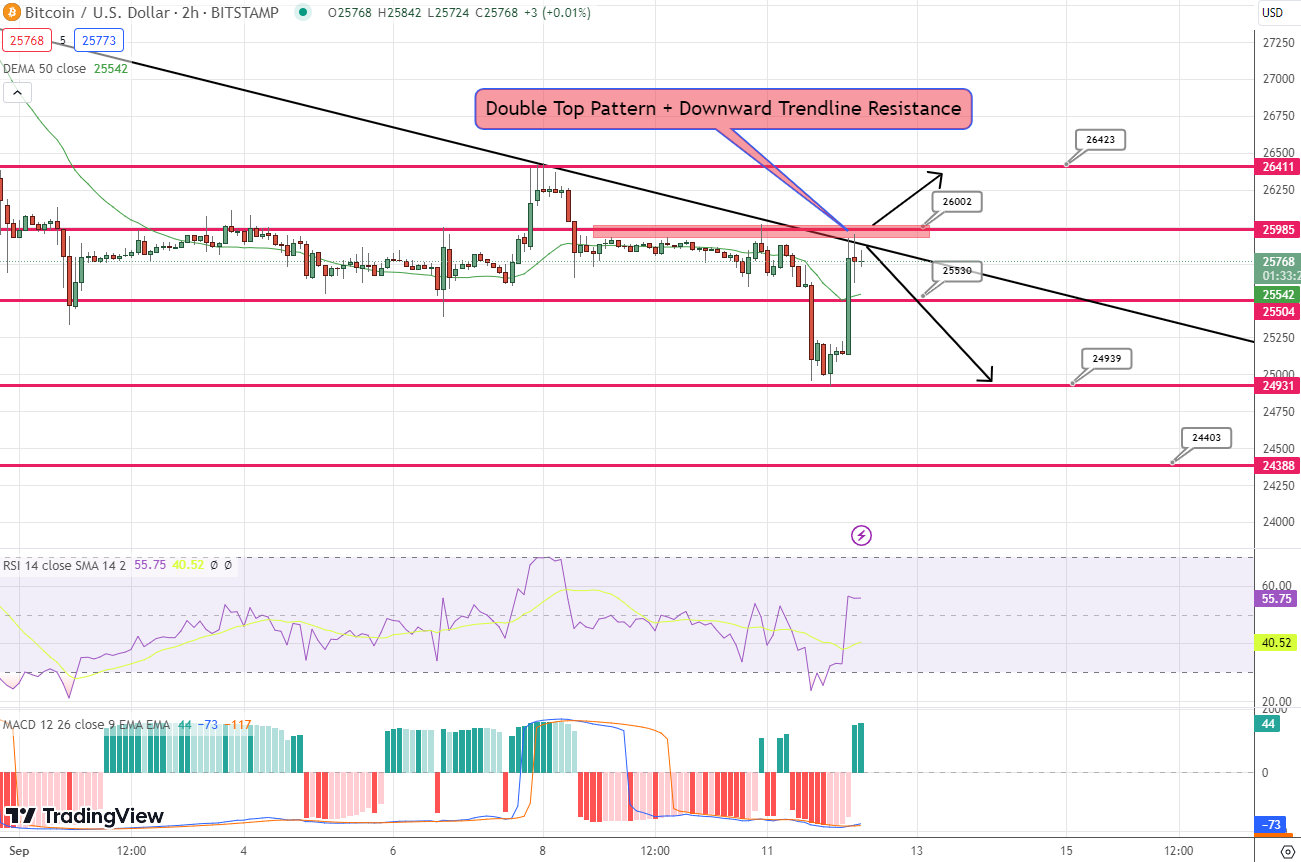 Technically, resistance is expected near $25,400. A temporary surge to $25,600 might precede a larger drop, potentially to $24,800. 
If Bitcoin breaks below this, $24,000 emerges as the next support. A significant barrier exists near $25,600; surpassing this could rally Bitcoin to $26,400 or even $27,000. In conclusion, the $25,600 mark is today's key trading pivot.
Top 15 Cryptocurrencies to Watch in 2023
Get ahead of the game in the world of digital assets by checking out our carefully curated selection of the top 15 alternative cryptocurrencies and ICO projects to watch for in 2023. 
Our list is compiled by industry experts from Industry Talk and Cryptonews, so you can expect professional recommendations and valuable insights for your cryptocurrency investments. 
Stay updated and discover the potential of these digital assets.
Find The Best Price to Buy/Sell Cryptocurrency

Disclaimer: Cryptocurrency projects endorsed in this article are not the financial advice of the publishing author or publication – cryptocurrencies are highly volatile investments with considerable risk, always do your own research.