The Dogecoin price has risen by 1% in the past 24 hours, with its move to $0.062918 coming after the New York Department of Financial Services removed the meme token from a greenlist of approved virtual currencies.
DOGE is currently 3% up in the past week, but also down by 2% in a month and by 10.5% since the beginning of the year, while many major tokens (e.g. BTC, ETH, XRP, SOL) have gained substantially since January.
And DOGE's removal by the NYDFS means that exchanges licensed by the regulator can no longer list the meme token, something which could hurt its price in the longer term.
Dogecoin Price Prediction as NYDFS Removes DOGE From Greenlist – What's Going On?
This latest piece of news has come at a time when DOGE has been overdue a rebound, with the coin appearing to be at the beginning of a more positive upswing.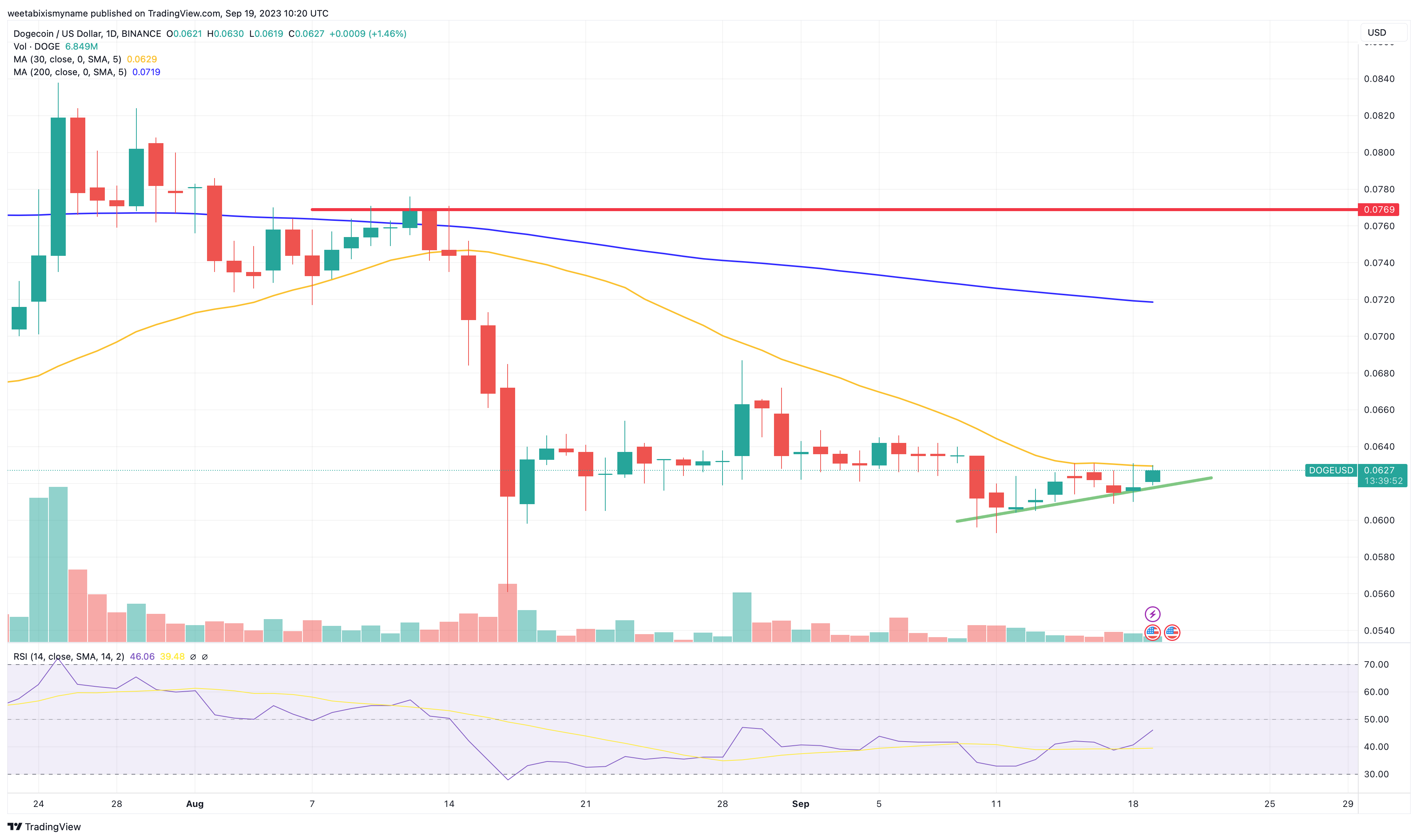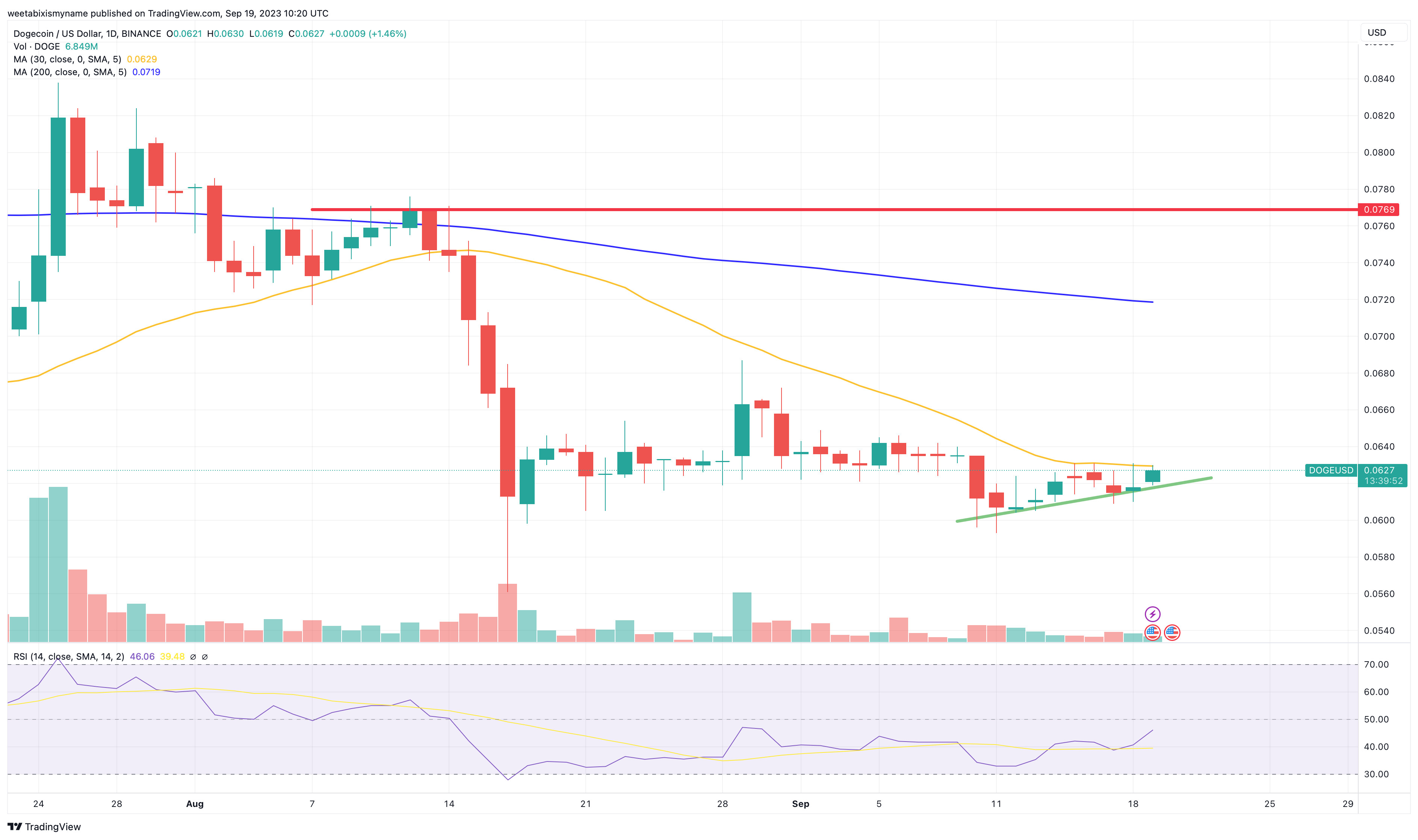 DOGE's relative strength index (purple) is rising towards 50, having been between 40 and 30 for around a month, meaning that it could be on the cusp of a recovery.
Likewise, the meme token's 30-day moving average (yellow) has levelled off after a sustained period of decline, something which also suggests that buyers may have begun accumulating the coin at a discount.
Either way, it does seem that DOGE had hit a bottom, with its support level (green) rising over the past week, implying that it has consolidated around a particular base level and is more likely to rise than fall (again) from here on out.
But as noted above, DOGE's potentially promising technicals come just as the NYDFS deals something of a hammer blow to the meme token.
Its removal of DOGE from a greenlist means that, legally, any trading platform registered with it cannot list the meme token.
Given that pretty much every major US exchange is registered with the DFS, this move could have a long-term negative effect on DOGE's price, robbing the coin of new buyers and a larger market.
To be fair, the update also brought the removal of XRP and Litecoin (LTC), so DOGE isn't the only cryptocurrency with DFS-caused problems at the moment.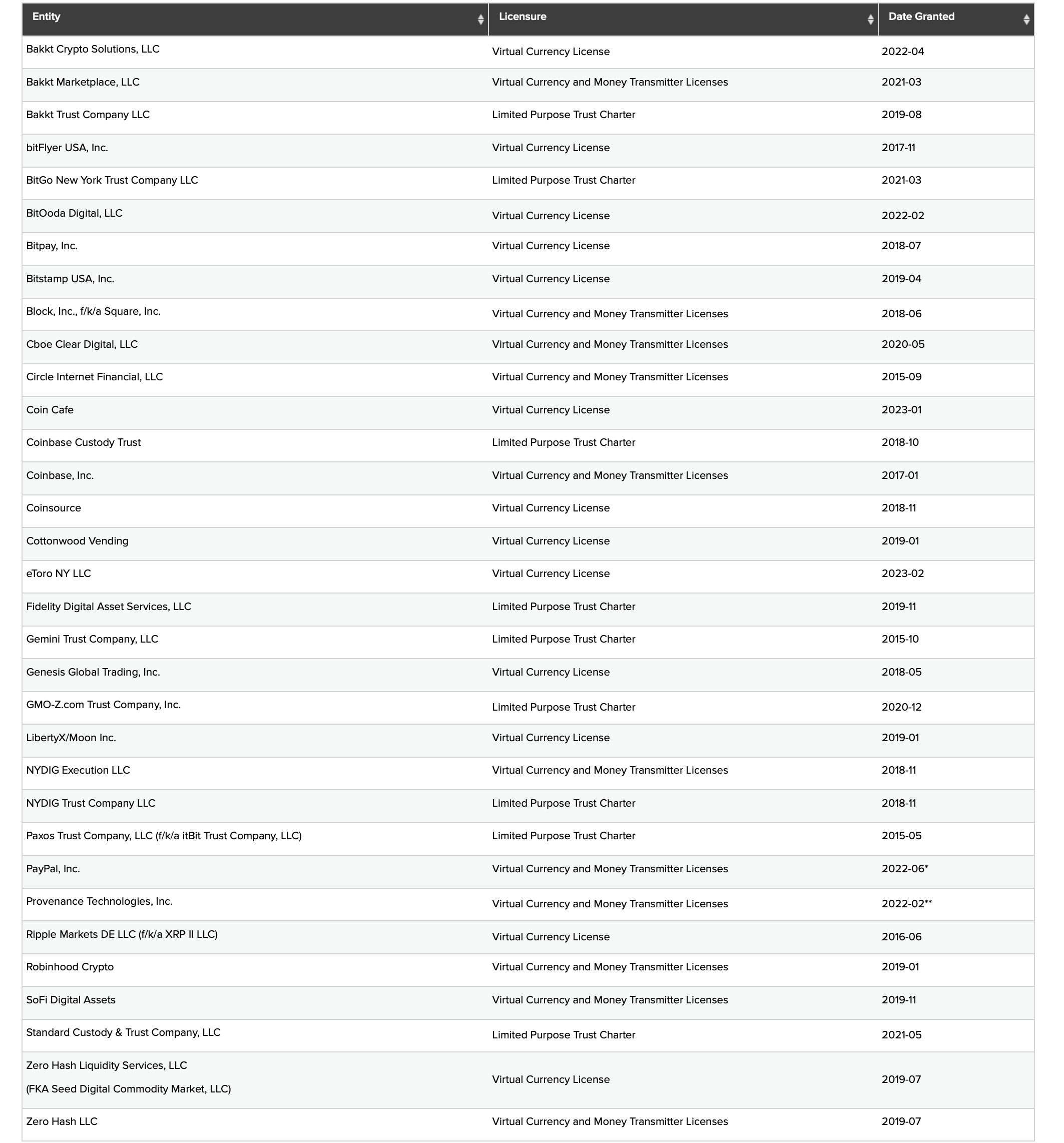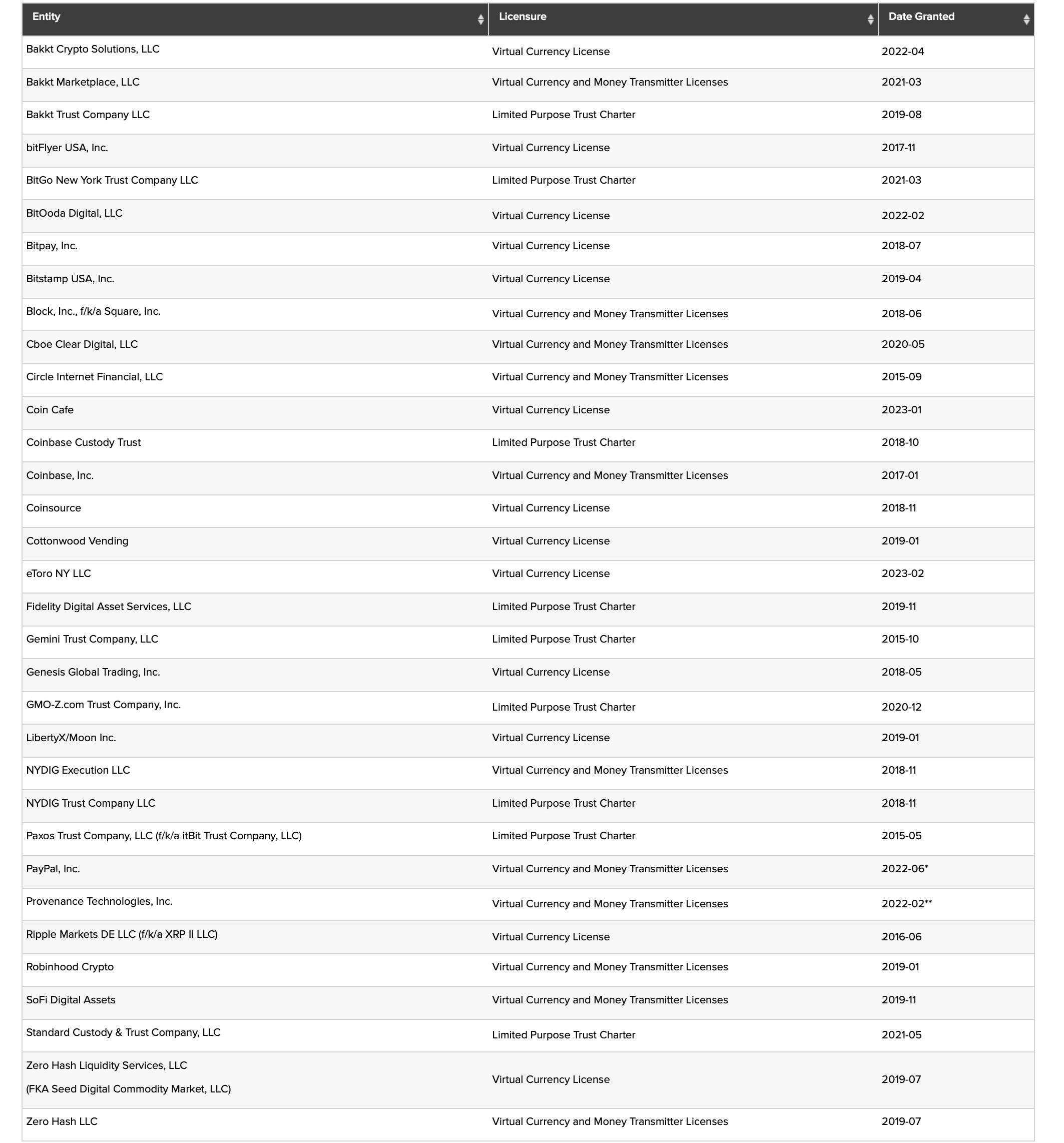 Still, for a coin that doesn't have much in the way of fundamental value, its effective banning in New York is yet another disappointing piece of news.
In terms of positives, DOGE continues to wait for the possibility that, one day, X (formerly Twitter) may introduce digital payment functionality on its network, including the use of Dogecoin.
This would undoubtedly be a massive boost for DOGE, yet if it's going to happen, it will be in the more distant future.
This leaves DOGE looking relatively week in the short- and medium-term, with the coin able to rise to $0.06300 near term, before perhaps falling back down again.
Higher Growth Altcoins
Because DOGE isn't likely to deliver a big return unless X integrates it as a payment option, most traders should consider turning to other altcoins for their gains, particularly to presale tokens.
One of the most interesting presale coins right now is Launchpad.xyz (LPX), an all-in-one Web3 trading platform that has already raised more than $1.7 million.
Focused on traders of all skill and experience levels, Launchpad.xyz will offer an ecosystem of tools and resources for staying ahead of the ever-unpredictable cryptocurrency market.
Launchpad's features will cover every imaginable area, from a play-to-earn gaming hub to AI-based analytics and trading signals, with the platform also set to include collaborative trading rooms and automated trading bots.
If that weren't enough, Launchpad is also on course to launch its own decentralized exchange and an NFT marketplace, making it one of the most comprehensive trading platforms in the cryptocurrency ecosystem.
And what's particularly promising about LPX as a token is that it will have genuine utility, with the coin serving as payment for platform fees and subscriptions.
Holders will also be able to use it for staking, enabling them to earn a passive income from the token, in addition to any price increases.
The presale can be joined by going to the official Launchpad.xyz website, with 1 LPX selling at a discounted price of $0.0445.
Once the sale ends, LPX will list on various exchanges, where it could easily rise in price and become one of the most successful new tokens of the year.
Visit Launchpad xyz Now
Disclaimer: Crypto is a high-risk asset class. This article is provided for informational purposes and does not constitute investment advice. You could lose all of your capital.