According to a report published by Crypto Valley Venture Capital (CV VC), the German blockchain sector demonstrated resilience, seeing a 3% YoY increase in funding, in contrast to the global blockchain ecosystem's downturn of over 50%.
Germany demonstrated remarkable development in the global landscape of blockchain venture funding, which witnessed a total investment of $14.6 billion across 1,367 deals in the past four quarters, as revealed in "The German Blockchain Report 2023" by Crypto Valley Venture Capital (CV VC).
The CV VC report examines venture funding activities over a year-long period from Q3 2022 to Q2 2023 in Germany and compares the data to global and Greater European venture funding trends.
According to the report, despite a 62% drop in overall funding and a 44% decrease in the number of deals globally, Germany managed to secure $355 million through 34 deals.
This marked a 3% increase compared to the previous four quarters when the country received $346 million across 47 deals.
Although, most venture capital activity remains concentrated in the United States, representing 48% of global funding and 41% of international deals, Asia and Europe contribute significantly to the remaining VC deals.
Asia contributes 28% of funding and 22% of deals and Europe contributes 17% of funding and 27% of deals.
With $8.8 billion raised across 614 venture deals in the past four quarters, Germany's performance accounts for 2.4% of global venture funding, 2.34% of global venture deals, 14% of European venture funding, and 8.6% of European venture deals.
Also, Berlin has firmly established itself as the "undisputed leader in Germany's blockchain story," consistently outperforming other cities regarding deal count and percentage of funding in the nation. This consistent performance underscores Berlin's pivotal role as the epicenter of blockchain innovation and investment in Germany.
"Berlin's strategic collaborations with global blockchain entities and its commitment to research and development have played a pivotal role in attracting significant investments."
Europe's Share of Global Blockchain Venture Funding Surges to 26% with Germany Leading the Way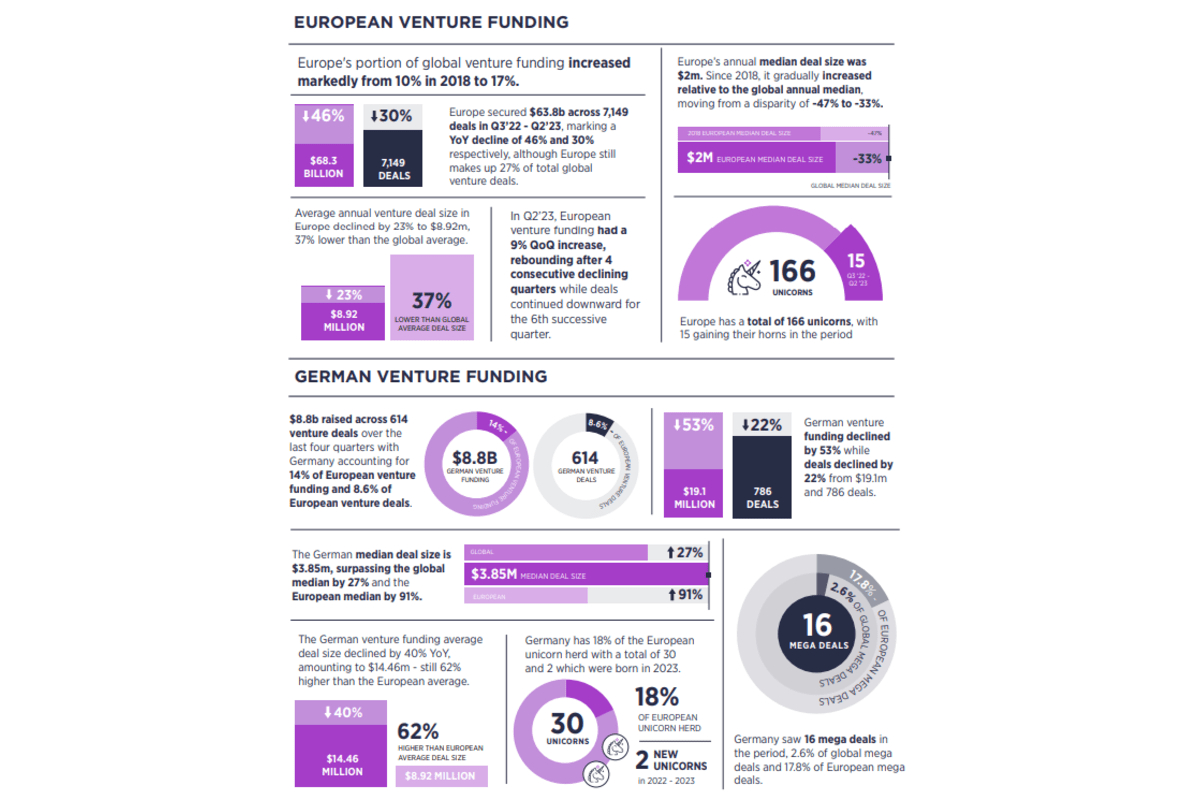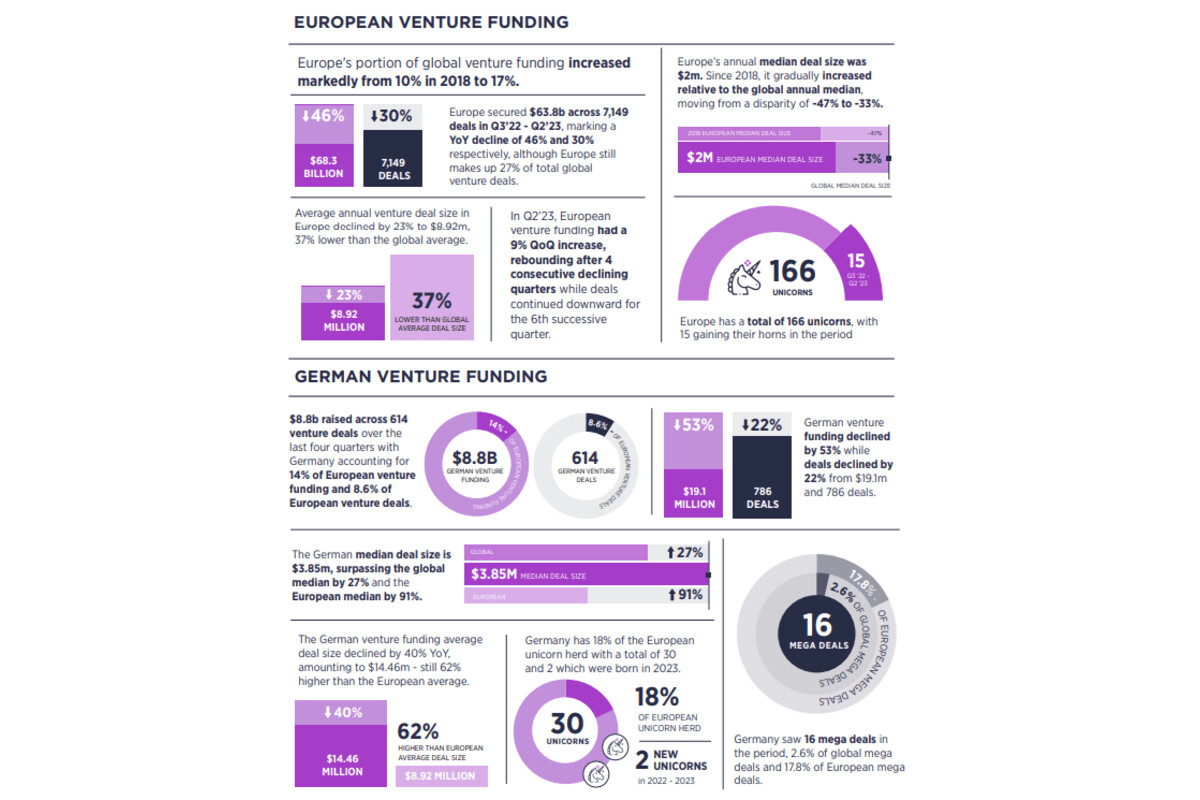 The CV VC report reveals that Europe's share of global blockchain venture funding has surged to 26%, up from its previous share of 18%.
Europe secured $3.78 billion across 329 deals, maintaining its second-place position after surpassing Asia in 2020. North America recorded $7.5 billion across 664 deals, while Asia achieved $2.4 billion across 274 deals.
This increase in Europe's share of global blockchain funding represents the highest ever recorded.
Against this backdrop, Germany's performance stands out prominently. The country secured 9.4% of the funding share and participated in 10.3% of the deals between Q2'22 and Q3'23.
These figures represent a substantial improvement over the previous year. Germany held a 4.9% funding share and was involved in 8.5% of the deals, solidifying its prominent position in the European blockchain landscape.
The CV VC report underscores Germany's impressive funding progress amidst a global venture capital downturn across all continents. Germany's blockchain ecosystem stands out for its evolution, technological advancements, and position as a leading hub for innovation in Europe.
The country's dedication to research, development, and the integration of cutting-edge technologies, particularly blockchain, sets it apart. The report emphasizes Germany's efforts to create a conducive regulatory environment and promote cross-sector collaboration.
These factors lay the groundwork for a robust and sustainable blockchain ecosystem that is vital to economic growth and technological leadership.