Joining the broader cryptocurrency market uptrend today, Render Token (RNDR) has exhibited bullish price action for most of the day. The RNDR price touched its 50-day moving average for the first time in almost two months earlier today.
However, selling pressure has once again pushed the cryptocurrency back to its familiar consolidation resistance zone of $1.499 to $1.531. It currently trades at $1.504, still maintaining a respectable 3.65% increase so far today.
Taking a look at the RNDR Price's technicals can potentially provide insight into where Render Token may head next.
Assessing Render Token's Key Moving Averages and Price Levels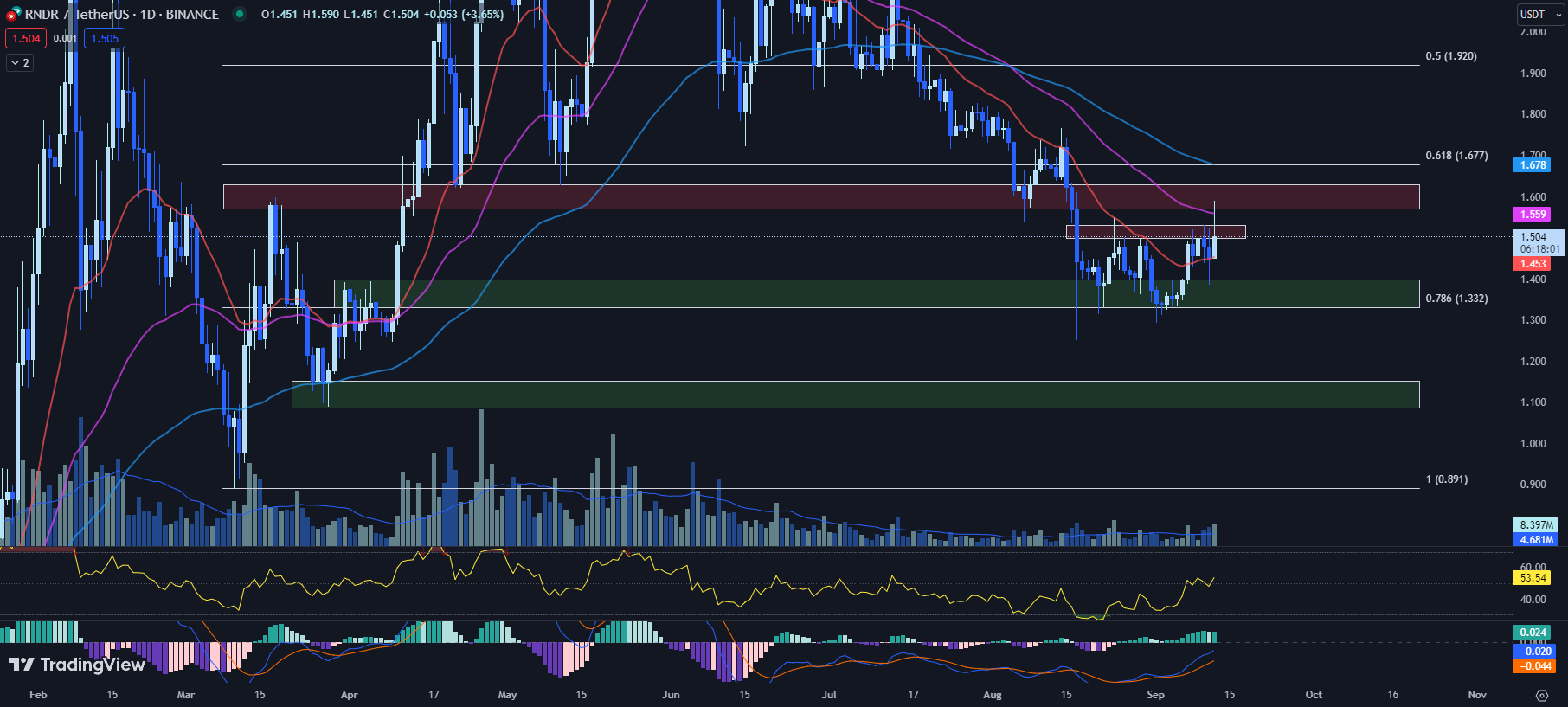 The 20-day EMA for Render Token currently stands at $1.453 and has been acting as immediate support for the RNDR price over the past five days.
Meanwhile, the 50-day EMA is at $1.559, and the 100-day EMA is at $1.678, both of which are well above the current trading range, indicating that the token has some room for growth in the longer term.
If the RNDR price fails to hold its support at the 20-day EMA, it could move towards the next horizontal support zone of $1.331 to $1.399, which is also in confluence with the Fib 0.786 level of $1.332.
Momentum and Market Metrics: What They Reveal About the RNDR Price
Render Token's RSI has moved from yesterday's 47.95 to today's 53.54, indicating a slight increase in buying momentum for Render Token.
Additionally, the MACD histogram has also seen a minor increase from 0.023 to 0.024, signaling that the bullish momentum is still in play, albeit not strongly so.
The market cap of Render Token has increased by 9.44% to $575 million, and the trading volume has risen by 25.43% to $38.1 million according to CoinMarketCap.
These metrics suggest an increased trader interest in RNDR, which could play a role in determining the RNDR price going forward.
With just a few hours remaining before the day's trading closes, the key question is whether the RNDR price will break out of its current resistance or continue consolidating for the rest of the week.
The moving averages, RSI, and MACD all suggest a balanced market for Render Token right now. Traders should keep a close eye on these indicators and the support and resistance levels to better understand potential price movements.
While Render Token shows indecision in its current price action, the crypto community is also keeping an eye on promising new crypto projects on the horizon.
One such project gaining attention is Launchpad XYZ, an ambitious all-in-one platform for crypto trading, education, NFTs, and more.
Launchpad XYZ Seeks to Simplify Crypto Investing Using Artificial Intelligence; Successfully Raises Near $1.7 Million
Crypto startup Launchpad XYZ aspires to be the go-to hub for everything related to crypto investing and Web3 education. The ambitious platform plans to offer features ranging from beginner trading courses to an NFT marketplace to decentralized exchanges.
With the presale raising over $1.67 million so far, Launchpad XYZ is on track to launch its platform in Q3 2023.
Visit Launchpad XYZ Now
Launchpad XYZ, A Home For All Things Web3 Crypto
Launchpad XYZ bills itself as an "all-encompassing web3 ecosystem" with valuable resources for users of all experience levels.
For those new to crypto, Launchpad XYZ will offer educational courses and training materials to get up to speed on topics like cryptocurrency, blockchain technology, trading strategies, and more. Its LearnWithLaunchpad program seeks to turn crypto newcomers into proficient cryptocurrency traders.
More advanced users can then tap into Launchpad XYZ's network of experts. The platform will provide high-level analytics, trading signals, and a daily newsletter called Trading Edge with "market-leading alpha."
An All-In-One Ecosystem
However, Launchpad XYZ goes beyond just trading tools. The platform will offer features to meet all Web3 needs in one place.
Users can buy, sell, and custody NFTs through Launchpad XYZ's peer-to-peer NFT marketplace. Or they can trade tokens on the platform's decentralized exchange.
Launchpad XYZ also plans to showcase new NFT mints, play-to-earn games, and other web3 projects.
Additionally, staking the platform's $LPX token unlocks access to partner discounts and whitelist opportunities.
According to CEO Terence Ribaudo, Launchpad XYZ intends to be a "humanized, curated portal" into Web3. Ribaudo says the platform will provide "easy access to the best projects in the blockchain space."
By catering to both casual and professional Web3 users, Ribaudo believes Launchpad XYZ can help brands onboard the next 10 million Web3 users. If the platform drives mass adoption as intended, $LPX demand from user growth could be substantial.
The Potential of $LPX
The $LPX token serves as the native token of the Launchpad XYZ ecosystem. Users need $LPX for platform access and to unlock premium features.
Holding the token will also provide rewards like staking yields, whitelist access, and discounts. This incentive to hold $LPX long-term could reduce selling pressure when the token eventually lists on major exchanges.
With the project's ambitious roadmap and presale hitting its target, crypto influencers are already speculating on $LPX's price potential.
Launchpad XYZ has set ambitious goals to become a one-stop hub for everything crypto and Web3. If the team can execute on their robust roadmap, $LPX could emerge as one of 2023's breakout tokens.
For now, the crypto community eagerly awaits the launch of Launchpad XYZ.
Visit Launchpad XYZ Now
Disclaimer: Crypto is a high-risk asset class. This article is provided for informational purposes and does not constitute investment advice. You could lose all of your capital.