Toncoin (TON) has exploded in recent weeks, after a huge project announcement saw the Web3 blockchain decouple from market downside moves, but with price now in retracement – is Toncoin going to zero?
The explosive price action – which pushed TON into the top 10 – comes following the news that popular messaging app Telegram have endorsed the TON network – in a move that positions Toncoin to capture huge Web3 market-share.
This comes as Telegram increase their prominence in the crypto space, beyond merely playing host to numerous crypto and project discussion groups, but now also hosting rapidly emerging Telegram trading bots.
TON Price Analysis: Is Toncoin Going to Zero Post-Telegram News?
Following the phenomenal project announcement – price action has been invigorated with a dramatic +38% move to the upside in just 7-days, leaving TON currently trading at a market price of $2.42 (representing a 24-hour change of +4.79%).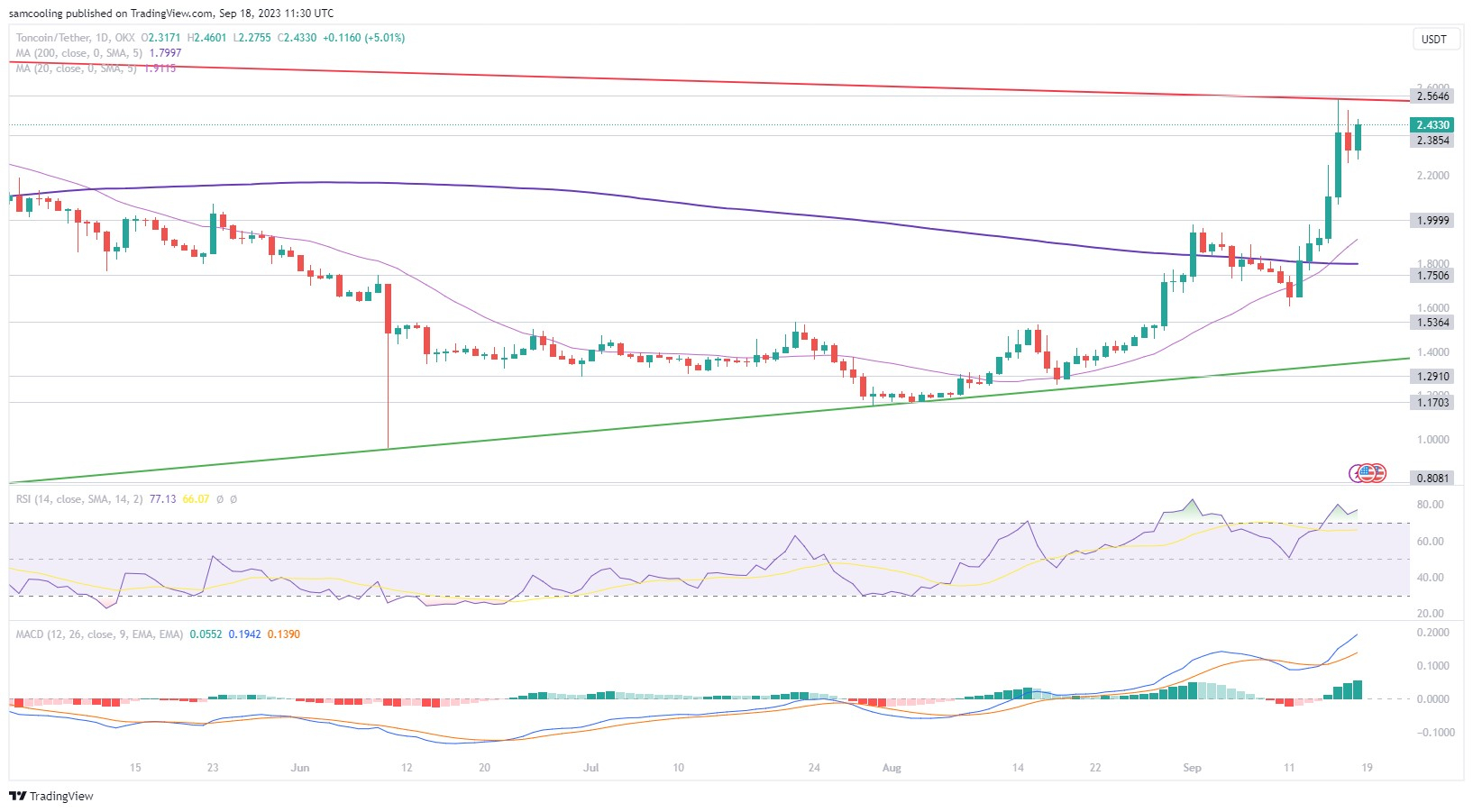 This comes as price action stalls around $2.40 – which acted as a level of resistance and support for TON earlier in the year.
Critically, the sudden upside move has left TON trading high above moving averages – with the 200DMA sat down at $1.80 and the 20DMA left in the dust at $1.91.
In a magnificent display, the push-up created a so-called 'golden cross' on September 15, as Toncoin's 20DMA overtook the 200DMA.
With price action breaking away, this growing divergence between price and MA levels could trigger a much-needed period of consolidation, or, even retracement to re-test lower support.
This view receives further confirmation from the RSI, which has over-heated significantly on the recent rally to show an overbought 73 with major bearish divergence indicating a need to retrace and consolidate.
However, following the golden cross, the MACD remains firmly bullish at 0.0111 – suggesting TON is unlikely to slow-down anytime soon.
Overall, with improving fundamentals for the ecosystem, TON appears strong – with price action currently calming down from a dramatic upside move.
Upside potential here could see TON push higher to break upper trendline resistance at $2.60 (a potential +6.9% move on the short-time frame).
However, downside risk has grown more prominent here, with a need to consolidate opening the door to a potential retracement back to lower support at $1.99 (a possible -18.15% move).
This leaves TON with a risk: reward ratio of 0.38 – a late-entry to the current rally at a moment that could see Toncoin retrace significantly.
While the risk: reward paints a negative view on the short-time frame, it is unlikely TON is going to zero anytime soon, and is likely to appreciate in value on a long-time frame given the attractive fundamental news from Telegram.
Bitcoin Derivatives Explode +$2.6M as WholeCoiner Hopes Fuel Bitcoin BSC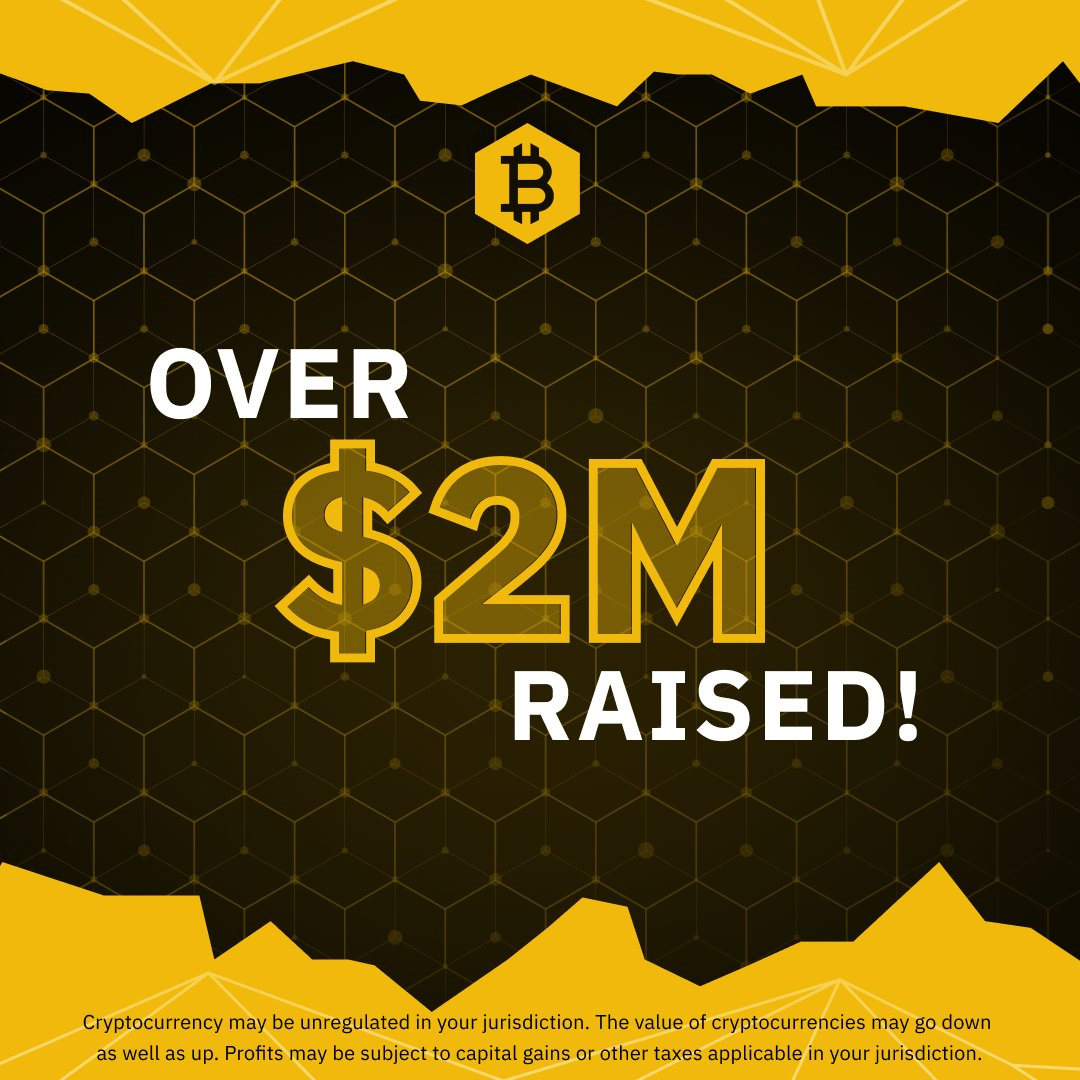 On-Chain Summer has given rise to an emerging vertical of Bitcoin off-shoot projects. While the term "Bitcoin derivative" might raise eyebrows, here's what it signifies: a digital asset that leverages the strengths of Bitcoin and, at the same time, offers enhancements to rectify its challenges.
And with more than $2.6M raised this is what has markets so excited about Bitcoin BSC.
BTCBSC's commitment to retaining Bitcoin's cherished tokenomics, including the iconic 21 million token cap, ensures familiarity, while its unique offerings make it stand out.
One can't help but marvel at BTCBSC's integration with BSC (Binance Smart Chain), promising lightning-fast transaction times and minimal fees.
Forget the 10+ minute wait times of traditional Bitcoin; with BTCBSC, your transactions are confirmed in under five seconds, all for a mere $0.10.
This enhanced efficiency opens the door for broader usability, ensuring BTCBSC's relevance for a range of dApps, from microtransactions to significant financial remittances.
But that's not all, BTCBSC's adoption of proof-of-stake over proof-of-work offers a greener, more sustainable mechanism that's in line with contemporary environmental concerns.
By doing so, it ensures that the energy concerns that often plague traditional cryptocurrencies are a thing of the past.
>>>> Buy Bitcoin BSC Here <<<<
Ever Wished to Stake Bitcoin: Empower Your Stack with Additional Rewards

BTCBSC isn't just a token; it's an investment strategy – focused on: Staking, which has become a focal point in the DeFi space, takes center stage in the BTCBSC ecosystem.
The benefits are two-fold: it offers token holders a lucrative yield (imagine an APY of 8-10%!) and it promotes long-term holding, reducing the notorious price volatility often seen with new crypto projects.
By distributing a staggering 69% of the total token supply as staking rewards over 120 years, BTCBSC not only incentivizes holding but promises sustained and stable growth.

>>>> Buy Bitcoin BSC Here <<<<
Seize the Moment: The BTCBSC Presale Surges to $2.6m+ Raised in First Week
Now comes the crux: the BTCBSC presale -a limited-time opportunity, the presale offers 29% of the total token supply to early participants at a tantalizing price of $0.99 per token.
Comparing this to Bitcoin's 2011 price gives a nostalgic yet optimistic perspective on BTCBSC's potential.
With liquidity already locked via Unicrypt and a soon-to-be launch on PancakeSwap, the prospects for BTCBSC are incredibly promising.
The parallels to the surges seen in other Bitcoin derivatives, like BCH and BTC20, cannot be ignored.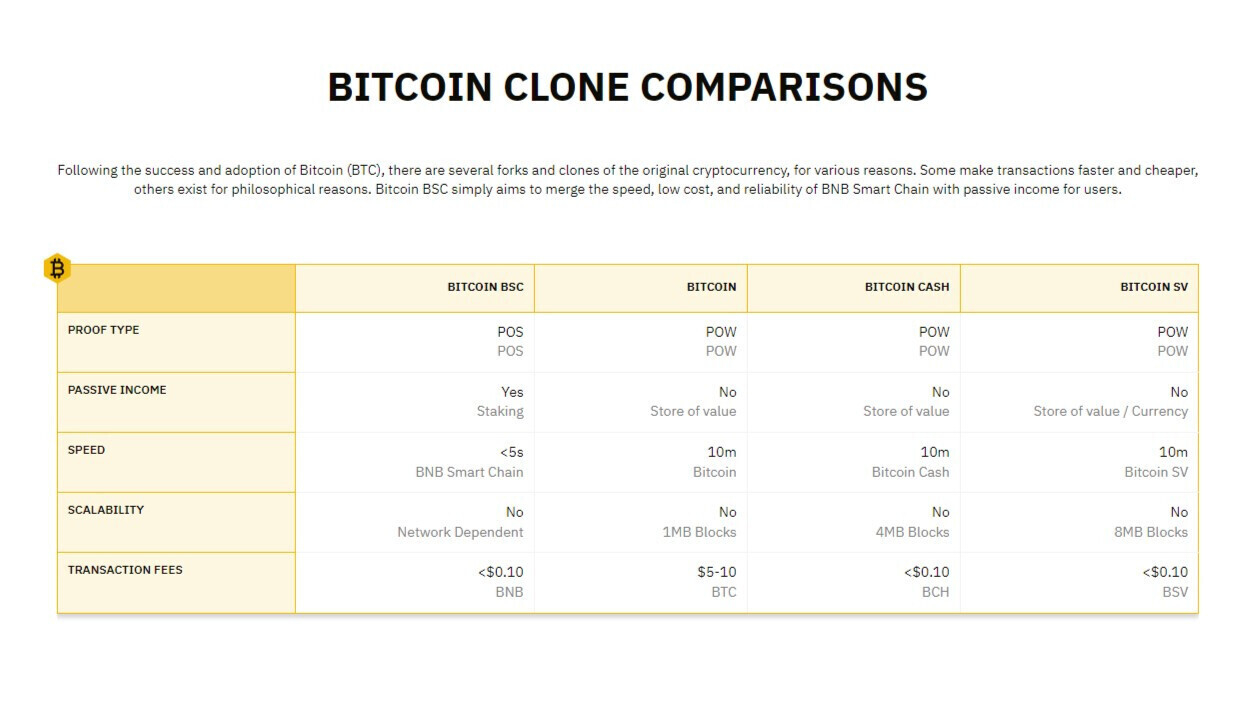 BTCBSC is poised to not only emulate, but potentially surpass these successes, especially with its strategic staking model.
So in ever volatile crypto markets, BTCBSC emerges as a beacon of innovation and promise – delivering advanced features, combined with the trustworthiness of Bitcoin's legacy, has seen BTCBSC break-out as a top tier investment opportunity.
As the crypto community eagerly watches the BTCBSC journey, it's clear that this is more than just another token; it's a movement, a strategy, and most importantly, an opportunity.
Join the future; join the BTCBSC revolution. Stay tuned for the latest ICOs.
>>>> Buy Bitcoin BSC Here <<<<
Disclaimer: Crypto is a high-risk asset class. This article is provided for informational purposes and does not constitute investment advice. You could lose all of your capital.