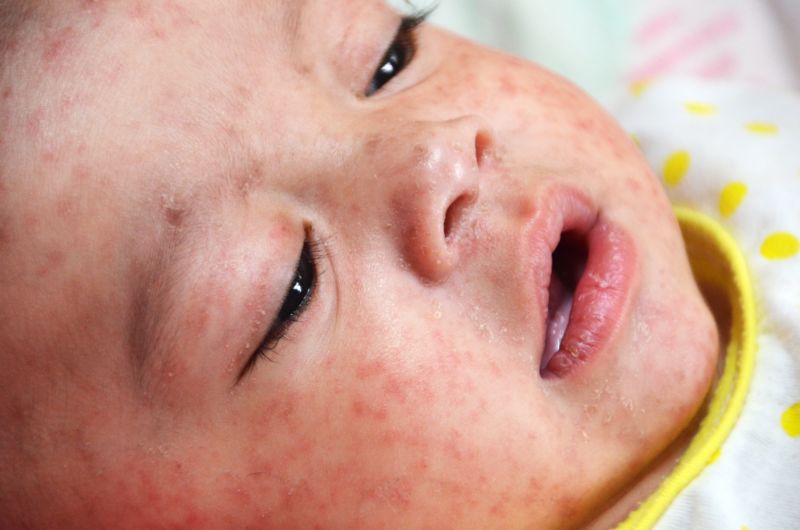 The World Health Organization and the US Centers for Disease Control and Prevention are sounding the alarm over the global rise of measles cases, deaths, and outbreaks as vaccination rates struggle to recover from a crash during the COVID-19 pandemic.
Between 2000 and 2019, estimated worldwide coverage of the first dose of a measles-containing vaccine rose from 72 percent to 86 percent. But amid the global public health crisis in 2020, the vaccination rate fell to 83 percent, and then to 81 percent in 2021—the lowest since 2008.
According to a new joint report by WHO and the CDC published this week, coverage of first-dose measles vaccines recovered slightly in 2022, rising to 83 percent. But of 194 WHO countries, only 65 (34 percent) reached a target vaccination rate of 95 percent or above for the first measles vaccine. Further, two doses are needed to stop the disease, and the estimated coverage rate for two doses was only 74 percent in 2022, up from 71 percent in 2021. Overall, the gains in vaccination weren't enough to prevent a comeback from the highly contagious and sometimes deadly virus.
While measles transmission plummeted during the emergency phase of the pandemic—like many other viruses—it is now rebounding amid the lower vaccination coverage. Between 2021 and 2022, estimated measles cases increased 18 percent, from 7,802,000 to 9,232,300. The number of countries experiencing large or disruptive outbreaks jumped from 22 to 37 in that time, a 68 percent increase. And estimated deaths rose 43 percent, from 95,000 to 136,200.
"The increase in measles outbreaks and deaths is staggering but unfortunately not unexpected, given the declining vaccination rates we've seen in the past few years," John Vertefeuille, director of the CDC's Global Immunization Division, said in a press statement. "Measles cases anywhere pose a risk to all countries and communities where people are under-vaccinated. Urgent, targeted efforts are critical to prevent measles disease and deaths."
Though the US is seeing slipping vaccination rates due to hesitancy and misinformation, the largest, most significant drops in vaccination coverage are in low-income countries, which have shown no recovery from the pandemic backslide. The 10 countries with the highest number of infants who missed their first measles vaccine dose in 2022 were Nigeria (3 million), the Democratic Republic of the Congo (1.8 million), Ethiopia (1.7 million), India (1.1 million), Pakistan (1.1. million), Angola (0.8 million), Philippines (0.8 million), Indonesia (0.7 million), Brazil (0.5 million), and Madagascar (0.5 million). Collectively, children from these 10 countries account for 55 percent of the nearly 22 million infants worldwide who missed their first measles dose last year.
"The lack of recovery in measles vaccine coverage in low-income countries following the pandemic is an alarm bell for action. Measles is called the inequity virus for good reason. It is the disease that will find and attack those who aren't protected," Kate O'Brien, WHO Director for Immunization, Vaccine, and Biologicals, said in a press statement.
The WHO and CDC concluded their report with a call to action. "It is critical that all countries and global partners work to accelerate the recovery of vaccination and surveillance programs toward the end goal of regional measles elimination," they wrote.