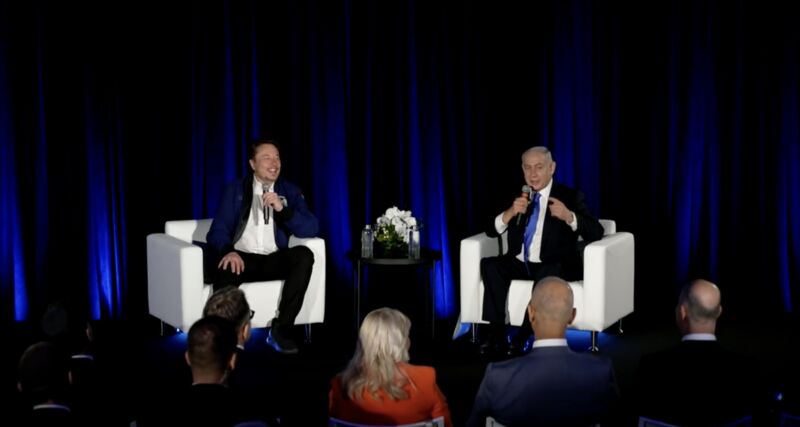 Today, Elon Musk and Israeli Prime Minister Benjamin Netanyahu livestreamed a discussion largely focused on the future of AI on Musk's platform X, formerly known as Twitter.
According to The New York Times, the talk was arranged at Musk's suggestion, and some perceived it as an attempt by Musk to seek "political cover at a time of rising antisemitism on X." In return, for Netanyahu, the talk seemingly provided an opportunity to deflect from mass protests against Netanyahu's attempts to weaken Israel's Supreme Court. Instead he could be seen promoting his dedication to turning Israel into a tech leader—and possibly even signal that Musk may consider investing in the country's tech, The Times reported.
The livestreamed event kicked off with a one-on-one between Musk and Netanyahu that attracted more than 735,000 views. While much of the one-on-one did focus on AI—which Musk claimed was "potentially the biggest civilizational threat" and Netanyahu called "a blessing and a curse"—the men also made time to discuss their views on antisemitism and how Musk deals with hate speech on X.
"I know your commitment to free speech," Netanyahu said about 20 minutes into the talk. "But I also know your opposition to antisemitism. You've spoken about it. You've tweeted about it. And all I could say is, I hope you find within the confines of the First Amendment the ability to stop not only antisemitism, or roll it back as best you can, but any collective hatred of people."
Musk said that he was "sort of against attacking any group" but that defending free speech "does at times mean that there's someone you don't like who's saying something you don't like." However, "that doesn't mean, some sort of negativity should be pushed upon people," Musk said, noting that X couldn't afford to let the platform become "unpleasant," because it would lose users. He said that's why his platform works to de-amplify hate speech when it's detected—"because we think probably that's not what people want to hear."
"Obviously, I'm against antisemitism," Musk said. "I'm against anti-really anything that promotes hate and conflict."
Netanyahu noted that X's policy didn't stop Musk from condemning antisemitism every chance he got. The entire conversation remained strictly agreeable, with Netanyahu's only pushback coming about 25 minutes in. The prime minister asked Musk if it was "technically possible" to limit "armies of bots" from amplifying hate speech on X.
"So at least if you get a crazy guy and a hateful guy, let him be speaking for one voice rather than arming an army of fake millions," Netanyahu suggested.