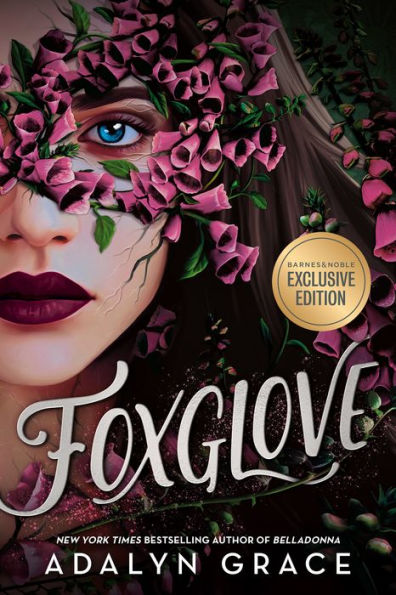 Foxglove by Adalyn Grace
The captivating sequel to the Gothic-infused Belladonna, in which Signa and Death face a supernatural foe determined to tear them apart.
A duke has been murdered. The lord of Thorn Grove has been framed. And Fate, the elusive brother of Death, has taken up residence in a sumptuous estate nearby. He's hellbent on revenge after Death took the life of the woman he loved many years ago…and now he's determined to have Signa for himself, no matter the cost.
Signa and her cousin Blythe are certain that Fate can save Elijah Hawthorne from prison if they will entertain his presence. But the more time the girls spend with Fate, the more frightening their reality becomes as Signa exhibits dramatic new powers that link her to Fate's past. With mysteries and danger around every corner, the cousins must decide if they can trust one another as they navigate their futures in high society, unravel the murders that haunt their family, and play Fate's unexpected games—all with their destinies hanging in the balance.
Dangerous, suspenseful, and seductive, this sequel to Signa and Death's story is as utterly romantic as it is perfectly deadly.
This is a sequel and there will be spoilers from book one below.
Foxglove is a great follow up to Belladonna. Elijah was arrested for murdering the Duke, but Signa and Blythe know that's not possible. They are both determined to do anything to figure out who poisoned him. Even if that involves Fate.  Fate is death's brother and they haven't spoken in hundreds of years when Death took Fate's love. Fate has decided that he must have Signa and he pretends to be a price to everyone else. Blythe is seeing shadows and things and starts to suspect that Fate isn't normal. Just like how she realizes that Signa isn't a normal person either. It is still season, so there are parties and young girls trying to find husbands. But there is the murder mystery, Fate's plans, Death's love, and things from the past that come out. There are more ghosts in this one too. I won't get into anything else because I feel it's best just to read this one without knowing much. It's a longer book, but I found it impossible to put down at times. If you enjoyed Belladonna, you will likely love this one too. I cannot wait for book three after how this one ended.
I gave this book 5 stars. I loved that we heard more from Blythe since she is one of my favorite characters.
Have you read this yet?  Is it on your TBR?