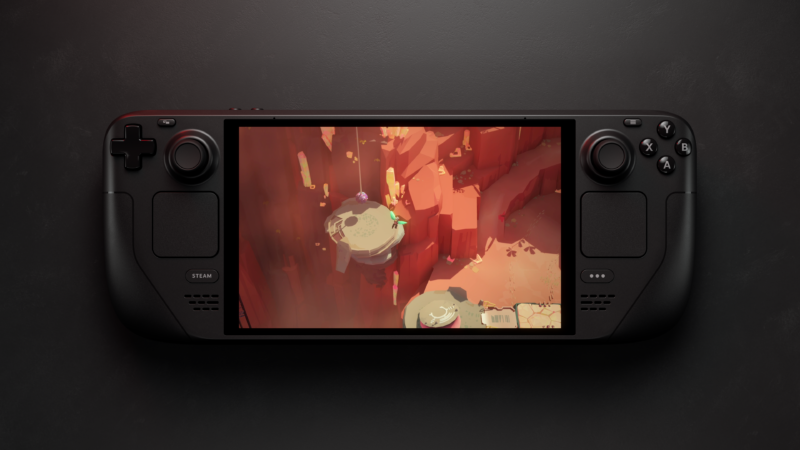 Valve has said that a true sequel to the Steam Deck handheld, one with a boost in power, is "a few years" away. But that apparently doesn't rule out smaller, console-style mid-cycle refreshes. Valve today announced a new OLED version of the Steam Deck that boasts a new screen and a wealth of other small but notable improvements.
The new OLED Steam Decks will be available at 10 a.m. Pacific (1 p.m. Eastern) on Nov. 16. A 512GB version at $549 replaces its LCD predecessor with the same storage, and a $679 1TB "Limited Edition" version, with anti-glare etched glass and a distinct smoky red colorway, is available, though "Quantities are highly limited" of the latter. A $399, 256GB LCD Steam Deck will stick around, while the 64 and 512GB versions of the LCD model are a bit cheaper while supplies last.
There's a heck of a lot that's improved in the OLED Steam Deck, minus one core thing: the power of its chip. Sharp eyes will catch on the spec sheet that the LCD Deck has a 7nm AMD APU package, with the CPU running 2.4-3.5GHz, and the GPU 1.0-1.6GHz. The OLED Deck sports a 6nm APU, but removes the GPU range, instead implying a consistent 1.6GHz output. Memory bandwidth has also been boosted from 5500 to 6400 MT/s, a 15% jump. It's more sustained peak performance, and a bit more bandwidth for frame-rate boosting, but with compatibility maintained.
There are a lot more straightforward gains in the OLED screen for which this device is named. It's a 7.4-inch, HDR, OLED screen, with 1,000 nits of peak brightness in HDR, or 600 nits in standard dynamic range, with a 1,000,000:1 contrast ratio and "<0.1 ms" response time. There's even a touted boost to its "high performance touch," with touchscreen polling now at 180Hz, providing "improved latency and accuracy." Dual ambient lights sensors on the OLED model should also provide more accurate auto-brightness.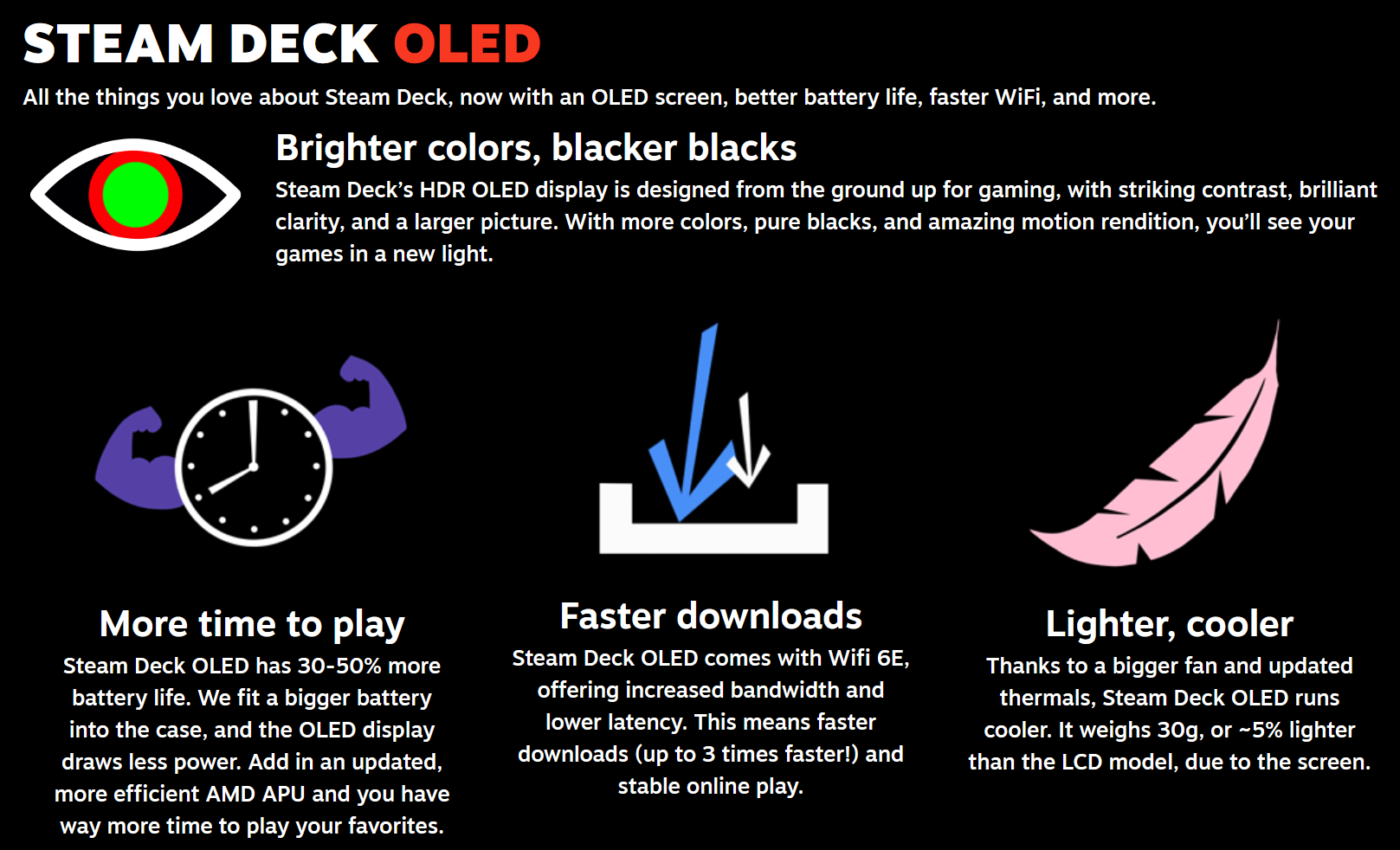 Strangely, Valve doesn't tout one of the other notable features of the new Steam Deck's screen: its 90 HZ maximum refresh rate. Other PC-based portables, including the ROG Ally and upcoming Lenovo Legion GO, differentiate themselves from the Deck with 120 and 144 Hz refresh rates, respectively. But the Ally paid for its double-time screen with disappointing battery life. Given that many Steam Deck enthusiasts end up playing demanding games at 40 or 45 frames per second to save on battery life, and AAA games are already starting to slip past the Deck's capabilities, a 90 Hz screen is a conditional benefit.
Despite this bigger, brighter, and higher-refresh screen, the OLED model touts 30–50 percent more battery life with a 50 Watt-hour battery, versus the original 40 Whr. Despite the battery bump, the unit also weighs 30g less than the original, down to 640 grams. This stems from the die shrink, some screen power efficiencies with an OLED screen that doesn't need a big backlight, and improved battery chemistry. Notably, Valve says charging from 20-80% on the OLED deck should take only 45 minutes.
Screen stats from inside Cyberpunk 2077's benchmark test.

Up close with a familiar, if now slightly brighter and larger-screened, portable.

It's not entirely clear if every OLED comes with the red power button, but we're hoping they do.
Wi-Fi 6E is the other big push Valve is making on their sales page, and while it might offer "3x faster downloads," that's one of those highly dependent figures, given the vagaries of home Wi-Fi, server speeds, and other inputs. Rounding out the list of things you may or may not notice, as a new or upgrading Deck buyer: improved bass response from the speakers, improved trackpad haptics feel, and a power cord that is 1 meter longer.
Valve's big, generational sequel to the Steam Deck is still going to be two, possibly three years away. Having put in the work on compatibility, verification, and the completely unexpected feat of making a Linux-based device feel very mainstream, the company is not about to start making people have to make hard choices on which version to buy. If you don't have a Deck yet, and you think you're in the market for it, there's not much reason not to grab the OLED version; it's seemingly better in every little way, minus the big frame-pushing way. That's on the way, but you've got a few years to get up close with this shinier little PC.
This post was updated to add more details about the spec upgrades, the Deck catalog, and price and availability.