The new tvOS home screen in tvOS 17 puts six icons in a row instead of five. It was the most I had noticed about a tvOS update in years.


Andrew Cunningham

The old home screen, with just five columns of icons.


Apple

Scrolling down past the "top shelf" area in tvOS 17 to see even more icons.


Andrew Cunningham
Consider this a mini-review: Apple is releasing tvOS 17 today, and the update is probably the most useful one that Apple has released since the very early days of tvOS in 2015.
Why? Not because of some stunningly innovative new feature or a great app that tames the tangle of competing streaming services. It's because Apple added an extra column of app icons. There are now six icons in a row instead of five. Revolutionary.
That probably comes across as more sarcastic or cutting than poor tvOS deserves. It is genuinely nice to have that extra column of icons, particularly in the top row where apps can use the carousel that consumes the top half of the Apple TV's home screen.
I also like tvOS! It's more visually appealing and less ad-prone than the Roku interface, and the TV app is still probably the best attempt anyone has made to gather shows from multiple TV apps into one place (even if it's spoiled by some content providers' refusal to play ball). Apple doesn't make another modern operating system that still runs on things made in 2015, but the 1080p 4th-generation Apple TV is still trundling along with its iPhone 6-era Apple A8 processor. I'm still using the first-generation Apple TV 4K from 2017, and aside from replacing the bad old remote with the somewhat superior new one, I have felt zero need or desire to replace it.
But the fact that I've noticed a 20 percent increase in icon density, more than any other feature Apple has introduced in the last five or six years, says something about how far Apple has lowered its ambitions for this third leg of the Apple TV's journey.
Even the other noteworthy, non-icon-based improvements in tvOS 17 emphasize its existence as an appendage within Apple's ecosystem. The 4K models now support FaceTime, but only with a compatible iPhone or iPad paired (the Apple TV doesn't have the port you'd need for a USB webcam, even if you wanted to add one). And your phone can now home in on a lost remote with your phone, rather than digging frantically through the couch cushions. Apple's plans for the Apple TV used to be bigger than this.
"The future of TV is apps"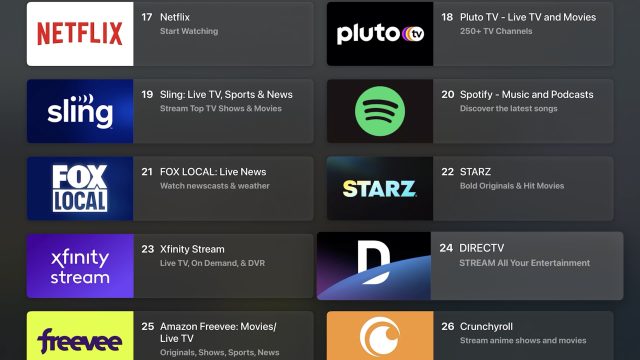 "The future of TV is apps," enthused Apple CEO Tim Cook in 2015 when the company announced that it would be relaunching the Apple TV as a full-fledged platform complete with App Store. The previous-generation Apple TV had already used the same chips Apple was shipping in iPhones and iPads, but the new Apple TV and tvOS would leverage the power of an A8 chip plus the iPhone's strong third-party app ecosystem to go beyond mere video streaming.
Cook and Apple services chief Eddy Cue went through a litany of different types of apps during that unveiling: there would be console quality 3D games, including a new Guitar Hero title; fitness apps, comic book apps, real estate apps like Airbnb and Zillow, and shopping apps like Gilt all joined a familiar litany of TV and sports apps.
Most of these apps and app categories still exist on Apple TV today (except for Gilt, Gilt is gone). And the health of the games ecosystem and the apps on the App Store's top charts suggest I'm not alone in that.