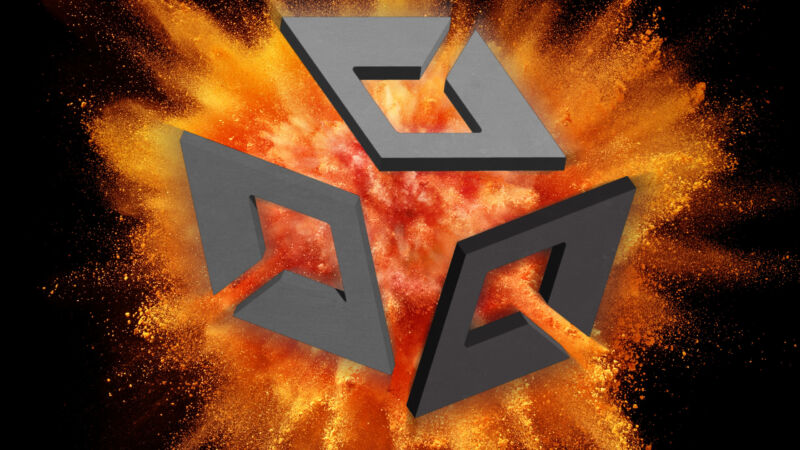 For years, the Unity Engine has earned goodwill from developers large and small for its royalty-free licensing structure, which meant developers incurred no extra costs based on how well a game sold. That goodwill has now been largely thrown out the window due to Unity's Tuesday announcement of a new fee structure that will start charging developers on a "per-install" basis after certain minimum thresholds are met.
The newly introduced Unity Runtime Fee—which will go into effect on January 1, 2024—will impose different per-install costs based on the company's different subscription tiers. Those on the Unity Personal tier (which includes free basic Editor access) will be charged $0.20 per install after an individual game reaches $200,000 in annual revenue and 200,000 lifetime installs.
Users of Unity's Pro and Enterprise tiers (which charge a separate annual subscription for access to a more full-featured Unity Editor) will pay slightly smaller per-install fees starting at $0.125 to $0.15 after a game reaches $1 million in annual revenue and 1 million total installs. The per-install fees for the paid subscription tiers are also subject to "volume discounts" for heavily installed games, going down as low as $0.01 per install for games that are installed 1 million times per month.
The new fee structure will apply in the United States, Australia, Austria, Belgium, Canada, Denmark, Finland, France, Germany, Ireland, Japan, Netherlands, New Zealand, Norway, Sweden, Switzerland, South Korea, and the United Kingdom. Outside of those countries, an "emerging markets rate" ranging from $0.005 (for Enterprise subscriptions) to $0.02 (for Unity Personal users) will apply after the minimum thresholds are met.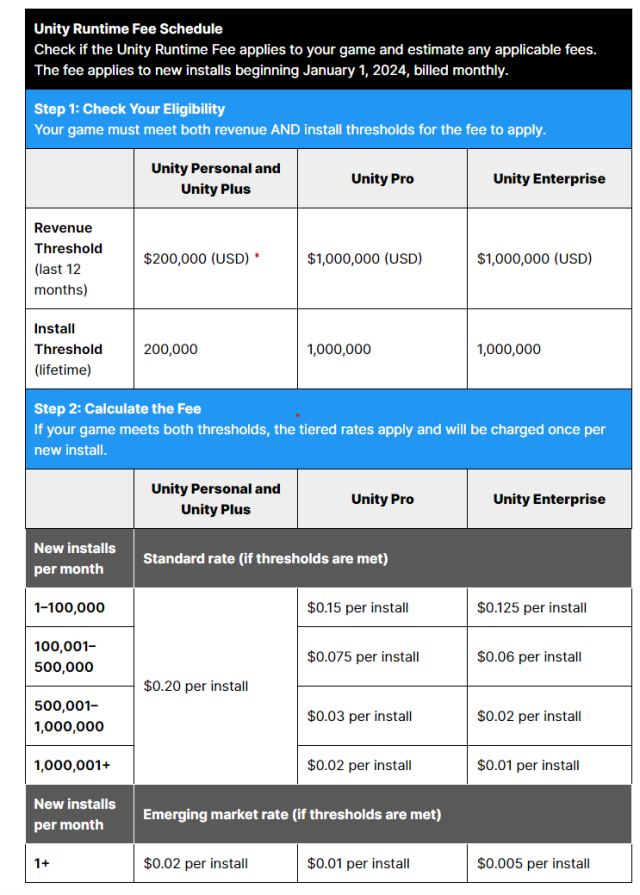 This is a major change from Unity's previous structure, which allowed developers making less than $100,000 per month to avoid fees altogether on the Personal tier. Larger developers making $200,000 or more per month, meanwhile, paid only per-seat subscription fees for access to the latest, full-featured version of the Unity Editor under the Pro or Enterprise tiers.
"There's no royalties, no fucking around," Unity CEO John Riccitiello memorably told GamesIndustry.biz when rolling out the free Personal tier in 2015. "We're not nickel-and-diming people, and we're not charging them a royalty. When we say it's free, it's free."
Now that Unity has announced plans to nickel-and-dime successful Unity developers (with a fee that is not technically a royalty), the reaction from those developers has been swift and universally angry, to put it mildly. "I can say, unequivocally, if you're starting a new game project, do not use Unity," Necrosoft Games' Brandon Sheffield—a longtime Unity Engine supporter—said in a post entitled "The Death of Unity." "Unity is quite simply not a company to be trusted."
Sheffield was far from alone in the sentiment. "Gloomwood will definitely be my last Unity game, likely even if they roll back the changes," developer Dillon Rogers wrote on social media.
"If this goes through, we'd delay content and features our players actually want to port our games elsewhere (as others are also considering)," Among Us developer Innersloth wrote on social media.
"Stop it. Wtf?" the developer added pointedly.