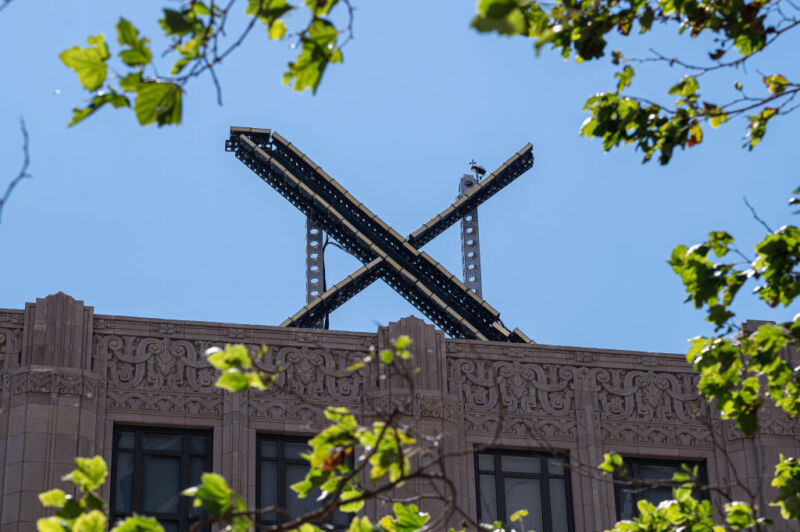 Today, Elon Musk's X Corp. sued to block California's content moderation law, AB 587. In its complaint, filed a US district court in California, X Corp. is seeking a preliminary and permanent injunction stopping California Attorney General Robert Bonta from enforcing the law.
AB 587 passed in September 2022, requiring social media platforms to submit a "terms of service report" semi-annually to California's attorney general, providing "a detailed description of content moderation practices used" and "information about whether, and if so how, the social media company defines and moderates" hate speech or racism, extremism or radicalization, disinformation or misinformation, harassment, and foreign political interference. Under the law, social media platforms must also provide information and statistics on any content moderation actions taken in those categories.
In X's complaint, the company accused California of trying to dictate X's terms of service and compel "controversial disclosures about how X Corp. moderates content on its platform."
The law stipulated that all platforms were required to start collecting data for their first terms of service report covering content moderation during the third quarter of 2023 and submit those reports to Bonta by January 1, 2024.
Platforms could be found violating the law for failing to post terms of service about content moderation, missing a deadline to submit a terms of service report, or materially omitting or misrepresenting information about content moderation. Any platform violating the law risks fines—which X described as "draconian financial penalties"—up to $15,000 per violation per day.
In its complaint, X Corp. argued that AB 587 violates the First Amendment by compelling "companies like X Corp. to engage in speech against their will" and "impermissibly" interfering "with the constitutionally protected editorial judgments of companies." X Corp. said that if the court did not block the law, California could pressure companies "to remove, demonetize, or deprioritize constitutionally protected speech that the state deems undesirable or harmful."
"The State of California touts AB 587 as a mere 'transparency measure' under which certain social media companies must make their content moderation policies and statistics publicly available," X's complaint said. But, X alleged, the state's "true intent" is "to pressure social media platforms to 'eliminate' certain constitutionally protected content viewed by the state as problematic."
X Corp. alleged that AB 587 violates other laws, including the Dormant Commerce Clause—"failing to restrict its extensive reporting requirements to information about Californians"—and Section 230 of the Communications Decency Act—which grants platforms immunity from liability for "any action voluntarily taken in good faith to restrict access to or availability of material that the provider or user considers to be obscene, lewd, lascivious, filthy, excessively violent, harassing, or otherwise objectionable, whether or not such material is constitutionally protected."
"Because AB 587 imposes liability on such actions if they are taken without the required disclosures, AB 587 is preempted by the broad immunity afforded by Section 230," X's complaint said.
Ars could not immediately reach X for comment. Bonta's office said: "While we have not yet been served with the complaint, we will review it and respond in court."
The author of AB 587, California assemblymember Jesse Gabriel, released a statement saying that the law "is a pure transparency measure that simply requires companies to be upfront about if and how they are moderating content. It in no way requires any specific content moderation policies—which is why it passed with strong, bipartisan support. If Twitter has nothing to hide, then they should have no objection to this bill."
But tech groups and policy experts echoed X's concerns over AB 587.
Adam Kovacevich, the CEO of the tech industry policy coalition Chamber of Progress, said that "requiring companies to give their content moderation playbook to scammers and conspiracists is a bad idea."
"Even if you don't like anything about Elon Musk's leadership of X, it's clear that requiring tech platforms to publish a detailed blueprint of how to work around content moderators will have negative consequences for users online," Kovacevich said. "Letting platforms set their own editorial standards also leaves consumers with more choices about what kind of platforms they spend time on."
Netchoice, a group representing tech companies and trade associations, has called AB 587 "the Golden State's new online censorship law." In a statement about X Corp.'s lawsuit, Netchoice said that the law would force companies to submit "intrusive" and "often impossible to comply with" disclosures "about constitutionally protected editorial decisions." Netchoice's director of litigation, Chris Marchese, said that the court should enjoin AB 587 to protect free speech online.
"The First Amendment prohibits the government from regulating lawful speech—directly or indirectly," Marchese said. "States cannot avoid this prohibition by rebranding censorship as 'transparency' requirements."