The ever-evolving cryptocurrency landscape has lately been abuzz with talk surrounding Ripple (XRP), currently the fifth-largest crypto by market capitalization. 
As of now, XRP's trading price hovers tantalizingly close to the $0.50 mark, registering at $0.497194. This figure comes alongside a significant 24-hour trading volume of $502 million. 
Even though XRP has noted a marginal decline of around 0.50% in the past day, it boasts a robust market cap of $26 billion. 
From its maximum supply of 100 billion XRP coins, over 53 billion are already in circulation. 
As we deep-dive into the latest price predictions for XRP in this piece, a pressing query surfaces: Are crypto whales leaning more towards buying or selling XRP? 
Amidst these considerations, the Torres Ruling emerges as a beacon of optimism for XRP enthusiasts. 
However, Bill Morgan cautions that while this ruling is favorable, it doesn't necessarily bestow "final clarity" on every maneuver Ripple makes with XRP.
SEC vs. Ripple Labs – Key Developments
Date & Ruling: On July 13, 2023, District Judge Analisa Torres delivered a nuanced verdict concerning Ripple Labs and its leadership.
Background: The lawsuit, initiated in December 2020, centered on Ripple Labs, Bradley Garlinghouse, and Christian A. Larsen's alleged unlawful sales of XRP as unregistered securities.
Court's Decision Highlights
For SEC: The court favored the SEC concerning Institutional Sales but declined support for other matters.
For Ripple: The court sided with Ripple on Programmatic Sales, Other Distributions, and sales by Larsen and Garlinghouse, but not regarding Institutional Sales.
Critical Clarification: Judge Torres specified that XRP sales by Larsen and Garlinghouse were programmatic and didn't meet the criteria for investment contracts under the Howey Test. XRP, in itself, did not inherently qualify as an investment contract.
Insights from Bill Morgan (September 16, 2023)
Platform: Shared on X, formerly known as Twitter.
Regulatory Uncertainty: Despite the ruling, the SEC's intent to appeal leaves Ripple's XRP actions in a regulatory gray area.
Ripple's Business Focus: Ripple is likely to prioritize shareholders and customers over XRP holders. Their potential inclusion of XRP in the Liquidity Hub doesn't overlook the emphasis on more liquid cryptocurrencies like Bitcoin, Ether, USDC, and USDT.
Final Takeaway: Ripple isn't legally bound to XRP holders, reinforcing the verdict that XRP is not a security.
XRP Price Prediction 
Upon analyzing the XRP/USD technicals, we observed a significant resistance level at 0.5040. This resistance has consistently been evident, notably in the first week of September and again on September 15th. 
Concurrently, a support channel on the hourly chart positions XRP around the 0.4935 mark.
Should XRP confidently breach the 0.5048 resistance, the cryptocurrency might target the next resistance at approximately 0.5120. 
Beyond this, the 0.5200 level will likely serve as a substantial barrier for XRP. On the downside, the 50-day exponential moving average is poised to provide support near the 0.4900 mark.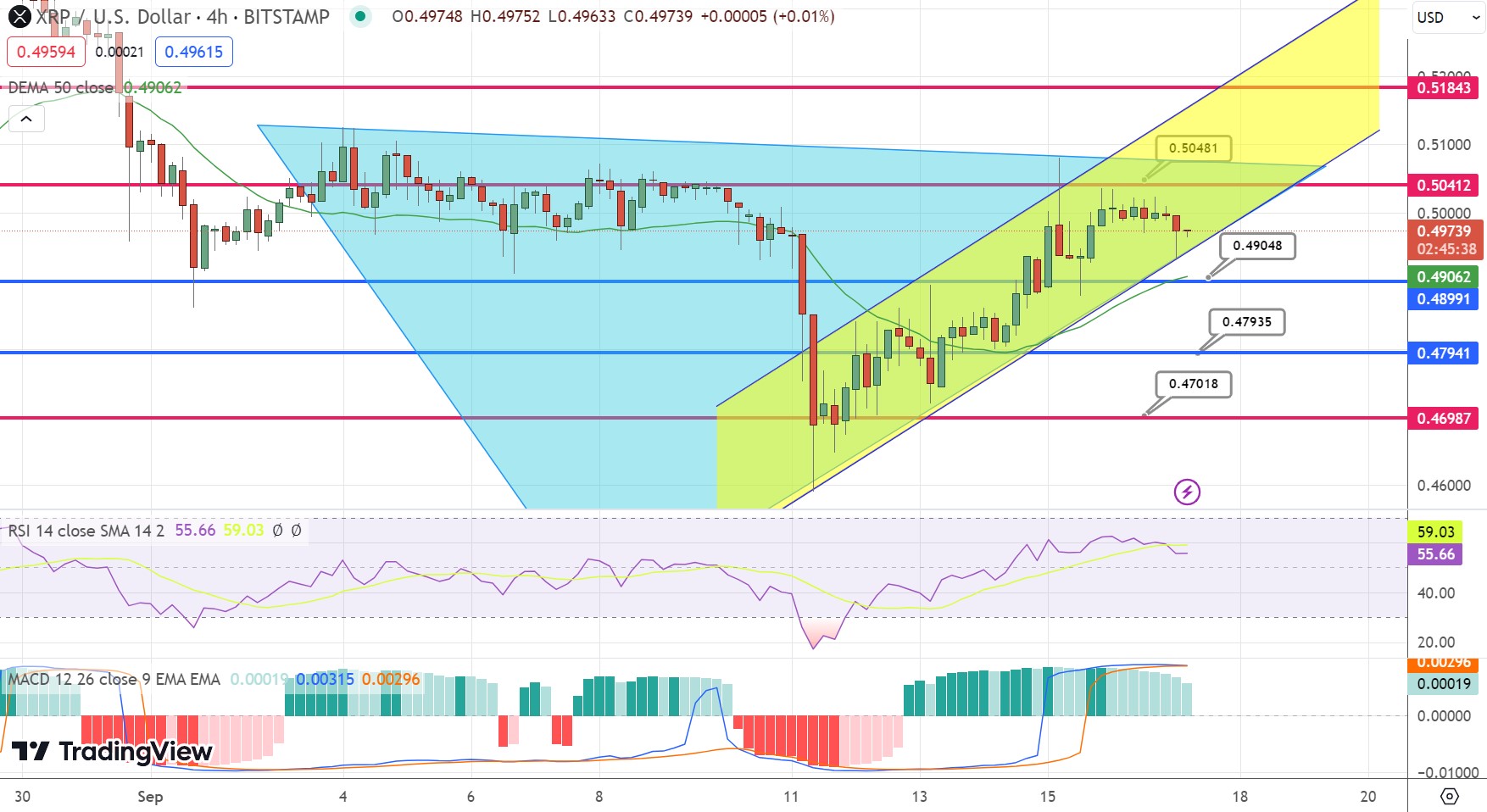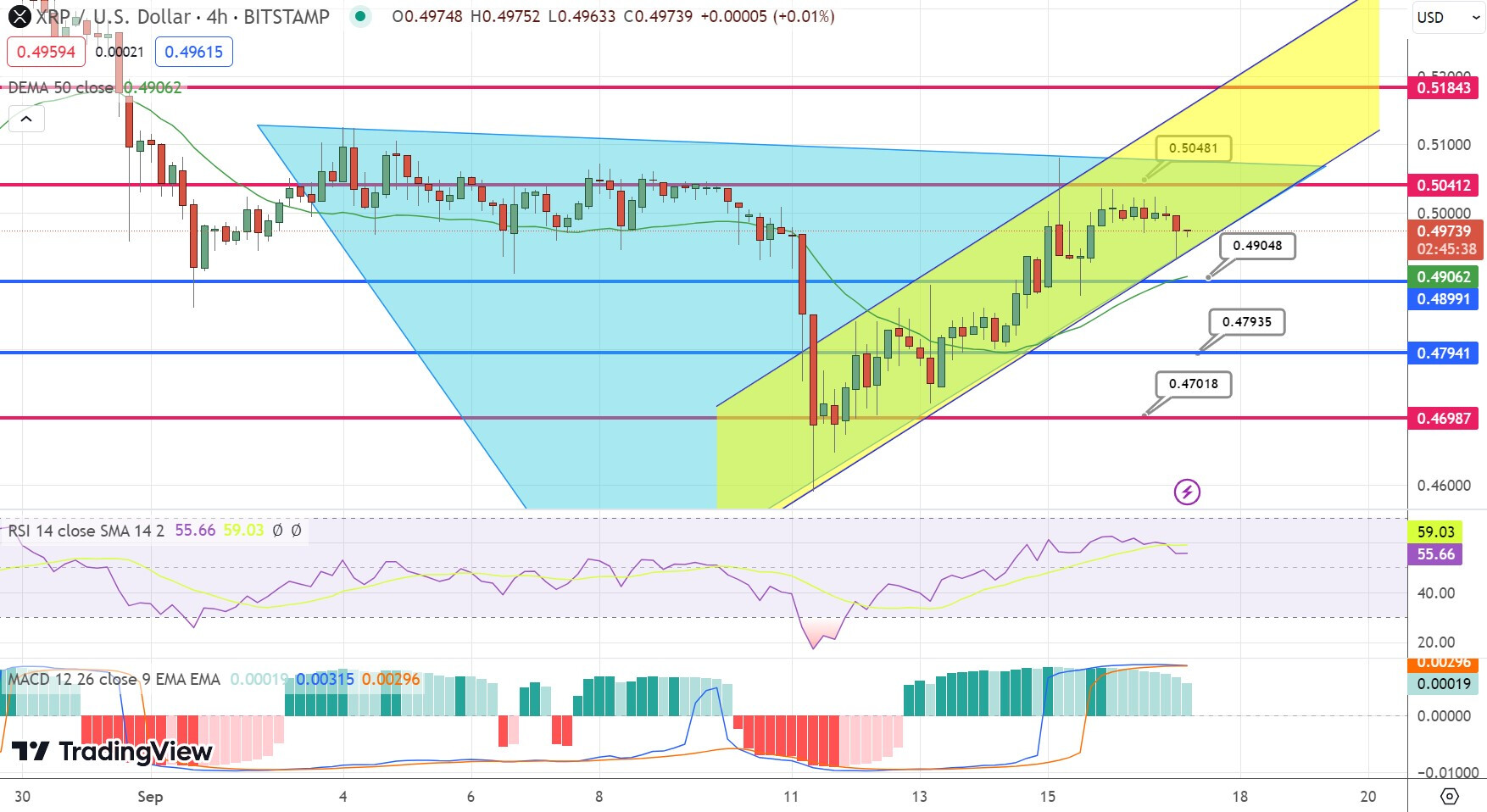 However, should XRP fall below this, it could potentially aim for the subsequent support level of 0.4790. 
Further down, the 0.4700 mark is set to be a significant challenge for the cryptocurrency.
Given these factors, traders should closely monitor the 0.5040 level, as it's expected to act as a pivot for XRP.
A move below this level might suggest a bearish trajectory, whereas a move above it could indicate a continuation of its upward trend.
Wall Street Memes – The Alternative Coin Worth Considering
Currently, crypto aficionados are expanding their investment horizons, with WSM emerging as a key interest. The pre-launch of $WSM, a cryptocurrency influenced by popular memes, has drawn considerable investor interest.
This fresh digital asset is rooted in Wall Street Memes, a renowned online hub known for its strong connections with the investor community.
Wall Street Memes' entry into the cryptocurrency sector has sparked immense enthusiasm, amassing over $300,000 on its debut day and subsequently climbing to an impressive $25 million.
In its ongoing presale, WSM tokens are available at $0.0337 each.
Seize this unmatched opportunity. Given its promising trajectory, now is the moment to invest in Wall Street Memes and be part of this exhilarating journey.
Buy $WSM Here
Disclaimer: Crypto is a high-risk asset class. This article is provided for informational purposes and does not constitute investment advice. You could lose all of your capital.